Are you looking for a new way to level up your grilling game? Flat top grilling is the perfect solution!
With their versatility and ease of use, flat top grills quickly become one of the most popular cooking methods.
Whether you're an experienced BBQ enthusiast or just starting outdoor cooking, this grilling offers plenty of benefits that will take your culinary experience to the next level.
From learning essential techniques for delicious results to properly maintaining your equipment, we'll provide everything you need to know about flat top grilling so you can get out there and start flipping burgers like a pro!
Flat Top Grilling Basics
Flat top grilling is a popular way to cook food outdoors. It uses a flat metal griddle surface, such as a cast iron skillet or griddle, to distribute heat evenly and create the perfect backyard cooking environment for delicious meals.
Setting up your flat top grill correctly is essential for successful grilling. Start by preheating the grill over medium-high heat until it reaches 350°F (177°C).
Once heated, use an oil spray or brush to lightly coat the entire surface with oil before adding any food. This will help prevent sticking and ensure even cooking results.
When you're ready to start cooking, ensure all your ingredients are prepped and within easy reach so that you don't have to keep running back and forth between the kitchen and grill area.
Place items on the hot surface in batches if necessary; this will help maintain consistent griddle surface temperatures throughout your meal preparation.
Be sure not to overcrowd the pan as this can cause uneven heating or burning of certain areas of food while leaving other parts undercooked.
Cooking techniques vary depending on what type of food you're preparing, but some general tips include:-
flipping foods often when they begin to brown on one side;
stirring regularly when sautéing vegetables;
spreading sauces evenly across meats before searing them;
and reducing heat levels after adding delicate ingredients like fish fillets or eggs, which require lower temperatures for proper cooking times without burning them too quickly.
Finally, cleaning your flat top grill properly is important for maintaining its longevity and ensuring optimal performance each time you use it.
After cooling down completely from previous uses, scrape off any remaining cooked-on residue with a stiff wire brush before wiping it down with warm water and mild soap solution, followed by drying thoroughly with paper towels or lint-free cloths before storing away until next time.
Grilling is a great way to enjoy the outdoors and create delicious meals. With flat top grills, you can take your grilling experience to the next level by unlocking various cooking options and flavors.
Flat Top Grill Benefits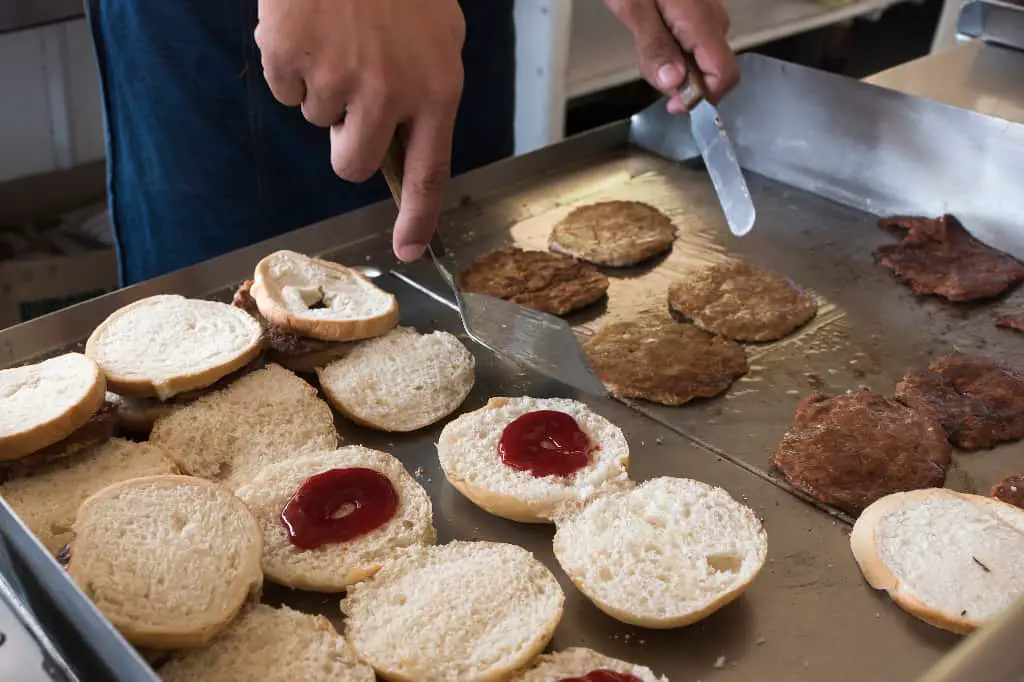 Flat top grills are quickly becoming the go-to choice for outdoor chefs. They offer a variety of benefits that make them an attractive option over traditional charcoal grills or propane gas grills.
Here's why you should consider investing in a flat top grill:
Ease of Use
Flat top grills are effortless to use and maintain, making them ideal for beginners and experienced cooks alike. The large cooking surface allows you to cook multiple items at once, while the even heat distribution ensures consistent results every time. Plus, they don't require special tools or techniques – just plug it in, adjust the heat setting knobs and start cooking.
Versatility
Flat top grills can cook anything from burgers and steaks to vegetables and seafood and grilled cheese to hash brown. Their versatility makes them perfect for entertaining guests with different tastes or dietary restrictions and creating complex dishes like stir fries and paellas. You can also use your flat top grill year-round since it works both indoors and outdoors.
Cost Savings
Flat top grills are much more cost-effective than other grilling equipment due to low maintenance costs. Unlike charcoal or gas grill models, there is no need to purchase additional fuel sources such as propane tanks or briquettes; all you need is an electrical outlet. Additionally, because they heat up quickly, they save energy compared to other outdoor cooking methods, which take longer preheat times before reaching optimal temperatures for cooking food evenly throughout the entire cooking surface area.
Health Benefits
Since flat tops don't require oil when cooking food items like meats or vegetables, they produce fewer carcinogens than traditional open-flame barbecues do when exposed directly to food surfaces (which may contain unhealthy fats).
This means that foods cooked on a flat top have less fat content overall without sacrificing flavor – making them healthier options overall.
Most modern flat tops have safety features such as automatic shut-off timers if left unattended too long so that accidental fires won't occur due to forgotten flames still burning after extended periods away from the grill itself.
This adds another layer of protection against potential hazards associated with outdoor cooking activities.
Flat top grills offer many advantages for outdoor cooking, from evenly cooked food to easy cleanup.
Now let's look at some techniques you can use to get the most out of your flat top grill.
Cooking Techniques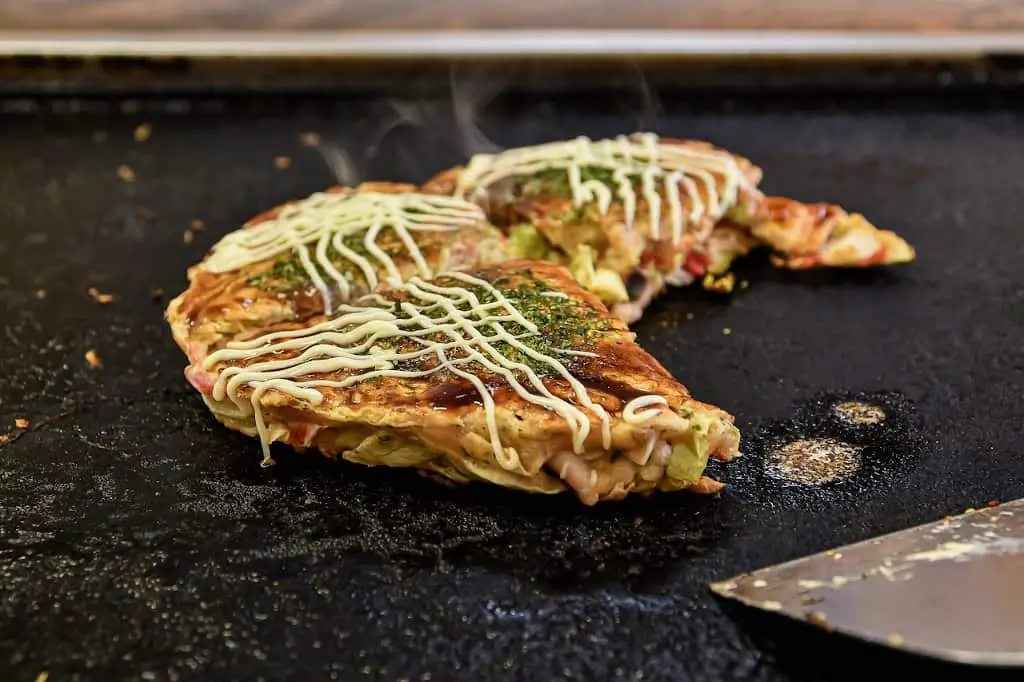 Grilling is a great way to enjoy delicious, smoky-flavored food. When it comes to grilling on a flat top grill, several techniques can be used to get the most out of your cooking experience.
Searing
Searing is a popular technique for cooking meats and vegetables on a flat top grill.
To sear properly, preheat the grill's surface until it's very hot before adding your ingredients.
This will help create an even layer of browning and flavor development and seal in juices for maximum flavor.
Make sure not to overcrowd the pan or move items around too much while searing so that they don't stick together or burn unevenly.
Sautéing
Sautéing is another great way to cook with a flat top grill.
This method involves using high heat and small amounts of fat (such as butter or oil) over medium-high heat to quickly cook smaller pieces of food such as vegetables, shrimp, chicken breasts, etc.
Be sure not to add too much fat at once; otherwise, you may end up with greasy results instead of perfectly cooked foods.
Stir-Frying
Stir-frying is similar in concept but different from sautéing because it uses higher temperatures and requires more frequent stirring during the process, which helps evenly distribute heat throughout all ingredients being cooked at once without burning them down one side only like when sautéeing.
It also helps prevent sticking by constantly moving everything around in the pan – this allows for quick cooking times and intense flavors due to caramelization occurring from high temperatures combined with constant movement within short periods of time.
Finally, ensure you take proper care when cleaning your flat top grill after use.
This includes scraping off any stuck-on bits left behind from previous meals before wiping down surfaces with warm water mixed with dish soap or baking soda if necessary, then drying completely afterward, so no rust develops over time.
Cooking techniques are essential to get the most out of your flat top grill.
With proper maintenance, you can ensure that your flat top grill will last for years to come. Let's look at some tips and tricks to maintain a flat top grill.
Flat Top Grill Maintenance
Flat top grills are a great way to cook delicious meals for your family and friends. But to keep your flat top grill in tip-top shape, you need to take the time to maintain it properly. Here are some tips on how to do just that:
Cleaning
After each use, make sure you clean off any food particles or grease from the cooking surface of the grill.
Use a wire brush and soapy water or an all-purpose cleaner specifically designed for outdoor grills.
Make sure you also scrub down the sides of the grill and underneath it, where grease can accumulate over time.
Storage
When not in use, store your flat top grill indoors if possible.
If this isn't an option, cover it with a heavy-duty tarp or waterproof cover and secure it tightly with bungee cords or rope so that no moisture gets inside while stored outdoors.
This will help protect against rusting and other damage caused by rain and snow during winter months.
Lubrication
Before using your flat top grill again after storage, apply a lubricant such as cooking oil spray onto its surface before turning on the heat source (charcoal briquettes or gas).
This will help prevent sticking when cooking foods like burgers and steaks, which tend to stick more easily than vegetables due to their higher fat content.
Seasoning
Seasoning is another important step when maintaining your flat top grill – especially if you plan on using cast iron cookware on its surface.
To season correctly, coat both sides of each piece of cookware with vegetable oil, then place them directly onto the hot griddle surface until they start smoking lightly – usually, about 10 minutes per side should do it.
Once done seasoning, remove them from heat immediately, then let them cool completely before storing them away for future use.
These simple steps will ensure that your flat top grill remains in good condition for years to come.
So don't forget these maintenance tips next time you fire up your outdoor kitchen; happy grilling.
FAQs in Relation to Flat Top Grilling
Is a flat top grill worth it?
Yes, a flat top grill is worth it. It offers many advantages over traditional grills, such as cooking food evenly and quickly. The large griddle surface area also allows for more versatility in grill cooking different types of foods simultaneously. Additionally, the flat top design makes it easier to clean up after use compared to other grilling methods. With proper maintenance and care, a flat top grill can last for years while providing delicious meals every time you fire it up.
Are flat top grills good for steaks?
Yes, flat top grills are an excellent choice for grill cooking steaks. The even heat distribution of the flat top griddle allows for an even cook on both sides of the steak while giving you more control over the temperature. Additionally, since there is no direct flame contact with your food, it reduces flare-ups and smoke production. This makes it easier to achieve that perfect medium-rare steak without worrying about burning or charring your meat.
What is flat top grilling?
Flat top grilling is a cooking technique that uses a flat metal surface to cook food. It is similar to stovetop cooking, but the heat source comes from below instead of above. The flat grill surface allows for even heat distribution and quick cooking times, making it ideal for preparing burgers, steaks, chicken breasts, and other meats. Flat top grilling also requires less oil than traditional methods since the fat drips off into the pan below. This makes it an excellent choice for healthier meals with fewer calories.
Can you put a grill on a flat top?
Yes, you can put a grill on a flat top. However, it is important to ensure that the flat top surface is level and stable before placing the grill on it. Additionally, be sure to use heat-resistant mats or pads between the grill and the flat top surface to protect both from damage caused by high temperatures. Lastly, check your local fire safety regulations, as some areas may have restrictions on grilling indoors.
Conclusion
With its many benefits, easy maintenance, and versatile cooking techniques, flat top grilling can help you create delicious meals for any occasion.
Whether you're an experienced grill master or just getting started with outdoor cooking, mastering the basics of flat top grilling will ensure that every meal is cooked to perfection.
Grillers, join us and learn the art of flat top grilling! With BBQGrillGuides you will have access to all the information needed for successful grilling.
From selecting quality meats, choosing the proper equipment, and learning different techniques, we are your one-stop shop for outdoor cooking.
Get ready to enjoy mouthwatering meals with friends and family as you explore our comprehensive guides that can help make every meal a success!