BBQGrillGuides.com
BBQGrillGuides.com is a blog about barbecuing and grilling. The site includes recipes, tips, and techniques to make your BBQs the best ever. Articles detail how to use a grill, what types of food to cook on a grill, and the different ways to season your burgers. The staff is also involved in competitive barbecue cooking. Learn from the experts and gain knowledge about everything from food safety skills to how to make a few simple sauces for your BBQs! Meet Our Team!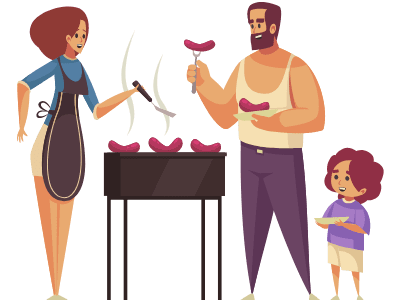 Also included is helpful information about making and using homemade rubs and sauces – because let's face it, the best BBQ tastes better when you know every ingredient.
The articles on this site are designed to be read by everyone. The articles are written so that the novice can understand and implement the information. Also, there is a brisket recipe for everyone in your family (though most are geared toward Texans). The biggest of beef isn't intimidating once you know some simple things about it, meaning it's time to rethink your brisket!
If you love BBQ just as much as we do, we'd love for you to add your own input to our blog.
BBQGrillGuides.com is the authority for BBQ information. Throughout the site, there are helpful FAQ's and links to other barbecue information.
If you have any questions or comments, please feel free to contact us.
All the best,
The BBQGrillGuides.com Staff