Smoking salmon is a great way to add flavor and texture to the fish. The key is getting the temperature and time right – long enough for an optimal smoky flavor but not so long that it dries out or overcooks.
If you're wondering how long to smoke salmon at 225°F, we've got your answer! In this blog post, we'll cover everything you need to know about smoking salmon: basic tips on preparing the fish before smoking through serving up your perfect smoked creation.
We'll also talk about what equipment you may need and provide helpful advice for getting the most out of your smoker when cooking with low-and-slow temperatures like 225°F for 3-4 hours until the internal temperature reaches 145 degrees Fahrenheit.
So get ready; let's dive into some delicious smoked Salmon!
Smoking Salmon Basics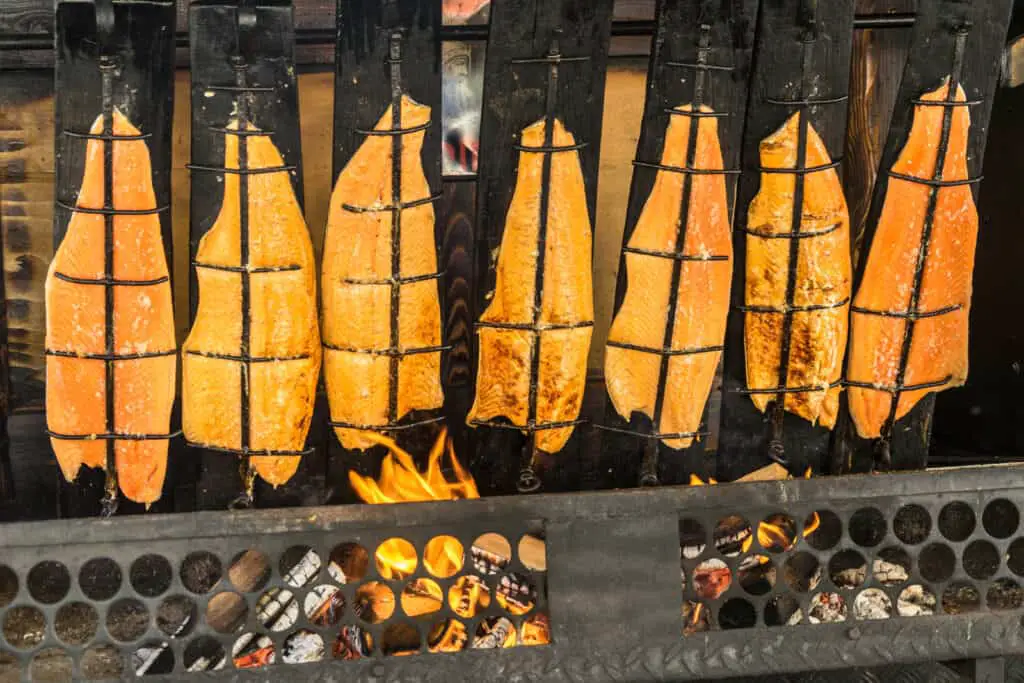 The key to smoking salmon is getting the temperature and time just right, as well as using the proper equipment.
Temperature & Time: Smoking salmon requires low temperatures over long periods for it to cook properly. A good rule of thumb is to smoke your salmon at around 200-225 degrees Fahrenheit for 3-4 hours. This will ensure that your fish cooks slowly and evenly, resulting in a tender and flavorful meal.
Equipment Needed: To smoke your salmon correctly, you'll need some specialized equipment such as a smoker or charcoal grill with an adjustable lid, wood chips (preferably hickory or applewood), thermometer, aluminum foil, tongs/spatula/grill brush, and fire starter (charcoal chimney).
Preparing the Fish: Before you start smoking your fish, make sure you choose the best salmon. Wild-caught salmon is always the best choice because of its lower fat content.
Next, it has to be properly cleaned and prepared. Start by removing any scales from the skin side of the fresh salmon, then rinse off any excess blood or dirt with cold water before patting dry with paper towels.
Once dry, season both sides lightly with salt, then wrap tightly in aluminum foil before placing on top of preheated coals inside your smoker or grill set up for indirect heat cooking.
After 2-3 hours, remove the fish from the heat source, careful not to puncture the foil packet. Open it carefully, allowing steam to escape before transferring its contents onto a plate or platter ready for serving immediately while still hot.
Serve alongside favorite accompaniments such as lemon wedges and fresh herbs if desired. Enjoy.
Smoking salmon is a great way to add flavor and texture to your meal.
With the right temperature and time, you can create delicious smoked salmon dishes that will have everyone asking for seconds.
Now let's look at how to get the perfect temperature and time for smoking salmon.
Temperature & Time
When it comes to smoking salmon, temperature and time are two of the most important factors. Maintaining a consistent temperature is essential for getting that perfect smoked flavor and texture.
Too high of a temperature can cause the fish to dry out or even burn, while too low of a temperature will not cook the fish all the way through.
The ideal range for smoking salmon is between 160°F (71°C) and 225°F (107°C).
The amount of time you smoke your salmon also plays an important role in how it turns out. Generally speaking, you should plan on about 1 hour per pound when hot smoking at temperatures around 180-200°F (82-93°C).
If you're using lower temperatures, like 160-180°F (71-82°C), then you may need to add some extra time onto that estimate.
You'll know your salmon is done when it flakes easily with a fork and has reached an internal temperature of 145ºF (63ºC).
It's always best to use an accurate thermometer when cooking any type of food but especially so with something as delicate as fish.
Investing in a good-quality digital thermometer can help ensure your smoked salmon turns out perfectly every time.
It's always best to use an accurate thermometer when cooking any type of food, especially with something as delicate as fish.
Investing in a good-quality digital thermometer can help ensure your smoked salmon turns out perfectly every time.
Temperature and time are key components to successfully hot-smoked salmon. With the right equipment, you can achieve delicious results every time.
Let's look at what kind of equipment is needed for this task.
Equipment Needed
To get started, you'll need some essential equipment. A smoker is the most important item for smoking salmon.
There are many types of smokers available, from electric and gas models to charcoal and wood-burning varieties.
Electric smokers are convenient because they can be plugged in and require minimal setup or maintenance.
Gas smokers are also easy to use but require more attention during cooking since you have to adjust the temperature manually throughout the process.
Charcoal or wood-burning smokers provide a more traditional experience with an intense smoky flavor that can't be achieved with other methods.
Lastly, make sure you have plenty of aluminum foil on hand so that once your fish has cooked through properly, it can be wrapped up tightly before being served or stored away until later consumption.
This will help to keep the moisture content and smoke flavor locked in while also preventing any bacteria from growing on the surface of the fish.
Having the right equipment is essential for a successful grilling experience.
To ensure that your salmon comes out perfectly cooked, you will need to prepare the fish properly before beginning the smoking process.
Preparing the Fish
Cleaning the Fish
When preparing to smoke salmon, it is important to start with a clean fish. Begin by removing any scales and fins from the fish.
Rinse the salmon under cold running water and pat dry with paper towels. Make sure all of the scales have been removed before proceeding to seasoning.
Seasoning
Once you have cleaned your salmon, it's time to season it for smoking. There are many different ways to season your salmon. Still, one of the most popular dry brine methods is combining brown sugar, kosher salt, pepper, garlic powder, and paprika.
Mix these ingredients in a bowl until they form a paste-like consistency, and then rub this mixture onto both sides of the fish evenly. Allow the seasoned fish to sit for at least 30 minutes before placing it into the smoker or grill for cooking.
Preparing Your Smoker/Grill
Preparing the type of smoker is an important step in ensuring that your smoked salmon turns out perfectly.
You have the options of a pellet smoker, charcoal smoker, gas smoker, and electric smoker, depending on what equipment you have in your backyard.
Now, let's move on to the next step of finishing and serving it.
Finishing & Serving
Smoked salmon is a delicious and versatile dish that can be served in many different ways.
To finish off the smoked salmon, it should be removed from the smoker when it reaches an internal temperature of 145°F.
Once removed, let the hot-smoked salmon rest for 10 minutes before serving to allow for even heat distribution throughout the salmon fillet.
When serving smoked salmon, several options are available depending on personal preference and occasion.
For casual gatherings or everyday meals, sliced smoked salmon pairs nicely with crackers or toast points as an appetizer or light meal.
It also makes a great addition to salads or sandwiches and is used in pasta dishes like carbonara and fettuccine Alfredo.
For formal occasions such as dinner parties, whole sides of smoked salmon make a beautiful presentation when plated with accompaniments such as capers, lemon wedges, dill sprigs, fresh herbs, and salmon dip.
The smoky flavor of the fish pairs wonderfully with tart flavors like pickled onions or cucumbers, while creamy sauces like hollandaise sauce add richness to each bite.
Smoked salmon can also be served cold alongside traditional breakfast items such as eggs Benedict or omelets for brunch-style entertaining at home.
FAQs in Relation to How Long to Smoke Salmon at 225
How long does it take to smoke fish at 225 degrees?
Smoking fish at 225 degrees typically takes around 2-3 hours, depending on the size and thickness of the fish. A good rule of thumb is to smoke for 1 hour per inch of thickness. If you're smoking a thicker cut, it may take longer than 3 hours. It's important to monitor the temperature closely during this process, as too high or low temperatures can affect cooking time and flavor. Additionally, checking the internal temperature with a thermometer is recommended to ensure that your fish has reached its desired doneness before serving.
Is there a difference in the cooking time when smoking salmon at different temperatures?
Yes, the cooking time can vary greatly when smoking salmon at different temperatures. The lower the temperature, the longer it will take to smoke the salmon. However, going too low in temperature can cause the salmon to become dry and unappetizing. On the other hand, smoking salmon at higher temperatures may cause it to cook too quickly and be overcooked.
What wood is best to use when smoking salmon at 225 degrees?
Generally, hardwoods are best when smoking salmon at 225 degrees Fahrenheit. Popular types of wood include alder, cherry, hickory, and oak.
Conclusion
Smoking salmon at 225 degrees is a great way to get that delicious smoky flavor and tender texture. With the right equipment, temperature, and time you can easily create a delicious meal with minimal effort.
By following these steps, you can successfully smoke salmon at 225 for as long as possible to reach your desired doneness.
Remember that safety should always come first when working with hot temperatures and open flames, so follow all instructions carefully!
Are you looking for the best way to smoke salmon? Look no further! BBQGrillGuides has all of the information and tips you need to get it just right.
Learn how long, what temperature, and which wood chips are ideal when smoking your favorite fish at 225 degrees Fahrenheit.
Don't waste time experimenting – let us show you exactly what needs to be done so that your smoked salmon turns out perfectly every time!
Visit our website now for more info on grilling techniques, equipment reviews, recipes, and more.