Cooking delicious smoke sausage on a pellet grill is easier. With just a few simple steps and patience, you can create a fantastic meal that will tantalize your taste buds with a smoky flavor!
Whether choosing the right type of sausage or adding extra smokey notes to your finished product, we'll walk you through each step so that grilling up tasty smoked sausages becomes second nature.
The best temperature to smoke sausage on a pellet grill is 225 degrees Fahrenheit for 2-3 hours until the internal temperature reaches 165 degrees.
We've even included ideas for side dishes to pair with this classic barbecue favorite! So grab your pellet grill and get ready to enjoy deliciously smoked sausages every time.
Choosing the Right Sausage
When it comes to choosing the right sausage for smoking, there are a few key things to consider. There are many types of sausages, including beef sausages, chicken sausages, ground pork sausages, and veal sausages.
First and foremost, you want to make sure that you select a high-quality sausage made with natural ingredients and no added preservatives or fillers. This will ensure that your smoked sausages have great flavor and texture.
Next, think about what type of sausage you would like to smoke. Popular options include bratwurst, Italian, chorizo, kielbasa and more. Each type has its unique flavor profile, so be sure to choose one that fits your taste preferences best.
Another factor in selecting the right sausage is size; some sausages are smaller than others which can affect how long they take to cook on the pellet smoker or grill and how much smoke flavor they absorb during the smoking time.
If you're looking for something quick and easy, opt for smaller sausages such as hot dogs or breakfast links.
At the same time, larger varieties like bratwursts require longer cooking times but offer more intense smoky flavors when done correctly.
Finally, pay attention to fat content when selecting your sausages; higher fat content means juicier results but also increases flare-ups on the grill. Keep an eye out for this if you don't want too much charring on your finished product.
All in all, though, just remember that quality is key when it comes down to choosing the perfect smoked sausage – go with something made from natural ingredients without any added preservatives or fillers and let your taste buds do the rest.
When choosing the right sausage for your pellet grill, consider factors such as size, flavor profile, and fat content.
Now that you have the perfect sausage picked out, it's time to get your pellet grill ready.
Preparing the Grill
Preparing the Grill is an essential step to smoking sausages. Before you begin, ensure your pellet grill is clean and preheated to 225°F.
To ensure a consistent temperature throughout the smoking process, fill the hopper with pellets and adjust the temperature setting on the control panel accordingly.
When using a pellet grill for smoking sausage, it's important to remember that wood pellets burn hotter than charcoal or gas grills.
This means you must monitor your heat levels more closely while cooking to avoid overcooking or burning your food.
It's also important to keep an eye on any flare-ups that may occur during cooking, as these can cause uneven heating of your food and result in undercooked areas or burnt patches.
To prevent this from happening, check for hot spots by running your hand over the grate before placing any food onto it.
If there are any hot spots, move them away from direct heat sources such as vents or burners until they cool down sufficiently before cooking preparations.
Finally, open up all vents so air can circulate freely around the chamber; this helps maintain even temperatures inside, which results in better-cooked foods overall.
Once the grill is prepped and ready to go, it's time to place the sausage on the grill. Be sure to arrange them in a single layer, so they cook evenly.
Smoke Sausage on a Pellet Grill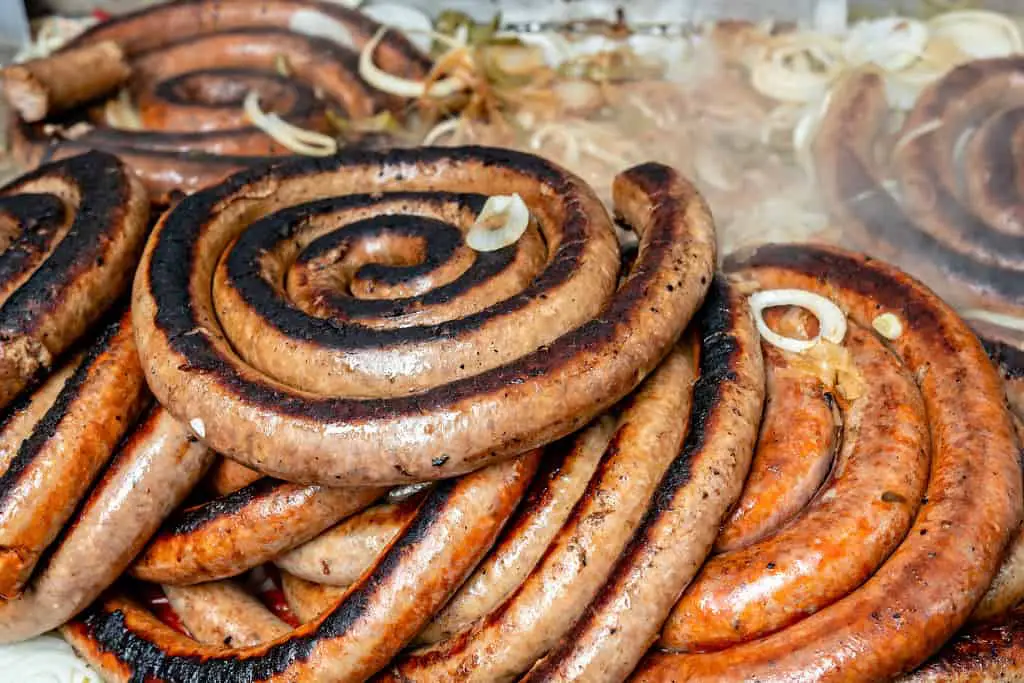 When it comes to grilling sausages, the key is to ensure that they are cooked through and evenly browned. The best way to do this is by placing them directly onto the grill grates.
Before doing so, ensure your grill has been preheated for at least 10 minutes on medium-high heat. Once you've done this, place your favorite sausages onto the hot grates and close the lid of your grill.
Allow them to smoke for approximately 2-3 hours, flipping them halfway through smoking time.
This will help ensure even cooking throughout each sausage link. If you're using a charcoal or wood-fired grill, be sure to adjust the temperature accordingly as needed during the smoking time to maintain an even heat level around all sides of each sausage link while avoiding flare-ups from fat dripping into open flames below.
If you want more flavor out of your sausages while they cook on the grill, try adding some smoke chips or chunks directly over coals or between briquettes before closing up the lid of your pellet smoker/grill combo unit (if applicable).
Doing so will add a nice smoky flavor that pairs well with grilled meats like sausages and hamburgers.
Finally, when it comes time to check if your sausages are done cooking – use an instant-read thermometer inserted into one end of each sausage link; if it reads 165°F, they're ready.
Be careful not to overcook, as this can lead to dryness and lack of juiciness in the finished product, which no one wants. With these tips, enjoy those delicious smoked sausages off your backyard BBQ setup.
Once the sausage is placed on the grill, it's time to add some smoke flavor for an extra layer of deliciousness. Let's look at how to do that in the next section.
Adding Smoke Flavor
Adding smoke flavor to your grilled sausages is an easy way to take them from ordinary to extraordinary.
To get the most out of this technique, it's important to understand how and when to add wood chips or chunks for the best results.
When ready to add smoke flavor, wait until your sausages have been cooking on the grill for about 30 minutes.
This will ensure that they are cooked through before adding any additional flavors.
Once they've reached this point, you can add wood chips or chunks directly onto the hot coals to create a smoky atmosphere.
The type of wood chips or chunks you use will depend on personal preference; however, hickory and mesquite are two popular choices for smoked sausage due to their strong smoky flavor profiles.
You can also experiment with other types of woods, such as applewood, cherrywood, and pecan, if desired.
When adding wood chips or chunks, be sure not to overdo it, as too much smoke can overpower the taste of your sausages and make them bitter-tasting instead of savory and delicious.
Start by using small amounts at first – around 1/2 cup per pound – then increase gradually until you find a balance that works well with your particular sausage recipe and taste preferences.
Once all of your wood has been added, close the lid on your grill, so it traps in all those wonderful smoky aromas while allowing some airflow for even cooking temperatures throughout each sausage link.
Allow everything to cook together for another 15-20 minutes before removing it from the heat and serving it hot off the grill.
Adding smoke flavor to your sausage on the pellet grill is a great way to give it that classic BBQ taste.
Now let's look at how to finish up your smoked sausage and get it ready for serving.
Finishing Up
Once your sausages have reached an internal temperature of 165°F, it's time to take them off the grill.
The best way to do this is with a pair of tongs or a spatula. Make sure you remove each cooked sausage from the heat source carefully and place them on a plate or cutting board.
When taking your sausages off the grill, be sure not to pierce them with sharp objects, as this will cause all of their delicious juices to escape.
If you want to check that they are cooked through properly, use a meat thermometer inserted into the thickest part of one sausage – if it reads 165°F, then they're ready.
Now that your sausages are cooked through and juicy, it's time for serving. You can serve them straight away while still hot or let them cool down slightly before eating – either way is fine.
It's up to you how you'd like to present them; cut in half lengthways so everyone can see how perfectly cooked they are inside. Or keep it whole for maximum juiciness? Either way works great.
If desired, add some extra flavor by brushing melted butter over the top of each sausage before serving.
This adds an extra layer of richness and helps make sure none of those tasty juices escape when sliced into them later on.
A sprinkle of herbs such as rosemary or thyme makes for a nice finishing touch.
Finally, don't forget about accompaniments when serving smoked sausages. These could include roasted vegetables such as potatoes and peppers; grilled corn on the cob; coleslaw; potato salad; bread rolls; pickles – the list goes on.
There is no wrong choice here, so get creative and enjoy experimenting with different flavors until you find something that suits your taste buds perfectly
What to Serve with Smoked Sausages
Smoked sausages are a delicious and easy meal to make on the grill. They're flavorful and juicy and can be served in many different ways.
When it comes to sides for smoked sausages, there are plenty of options that will complement the smoky flavor perfectly.
Grilled Vegetables
Grilled vegetables are an excellent side dish for smoked sausages. Try grilling bell peppers, onions, mushrooms, or zucchini alongside your sausage links.
These vegetables will absorb some of the smoky flavors from the sausage while still maintaining their unique taste. You can also add herbs like rosemary or thyme for extra flavor.
Baked Potatoes
Baked potatoes pair well with smoked sausages because they contrast nicely in texture and temperature.
Slice open a baked potato and top it with butter, sour cream, cheese, or chives before adding your favorite type of sausage link on top as a topping.
The combination is sure to please any crowd at your next BBQ gathering.
Coleslaw
Coleslaw is another great side dish option when serving smoked sausages at your next cookout or barbecue party.
This crunchy salad pairs nicely with the savory flavors of grilled meats like sausage links and hot dogs.
Make sure you use fresh ingredients such as cabbage, carrots, and onion when making coleslaw to have maximum flavor potential when served alongside your grilled meats.
Macaroni Salad
Macaroni salad is always a hit at summer barbecues, especially when paired with smoky-flavored meats like sausage links.
To make macaroni salad even more flavorful, try adding diced celery, pickles, or olives into the mix and mayonnaise dressing for added creaminess and tanginess that goes perfectly with grilled meats like smoked sausages.
FAQs in Relation to How to Smoke Sausage on Pellet Grill
What kind of sausage is best to smoke on a pellet grill?
Pork sausages can be smoked on a pellet grill, beef sausages, turkey sausages, and even vegan sausages. Choose your favorite type of sausage for maximum flavor!
How do I prepare the sausage before smoking it?
Make sure to prick the skins of the sausages with a sharp knife before placing them on the pellet grill. This will allow any excess fat inside the sausage to drip out during cooking and prevent it from exploding.
What should I use for the smoke flavor?
Most pellet grills have an option for wood pellets that give your sausages a great smoky flavor. Popular woods for smoking include hickory, cherry, and mesquite. You can also add wood chips directly to the firebox of the pellet grill for even more flavor.
Can I smoke sausage ahead of time and freeze them?
Yes! After smoking, allow sausages to cool completely before storing them in freezer-safe bags or containers in your freezer. This will keep them fresh for up to 3 months!
Conclusion
With the right preparation, you can create amazing flavors that will tantalize your taste buds.
Whether you're looking for a classic flavor or something more adventurous, smoking sausage on a pellet grill will surely be a hit with everyone in attendance.
So grab some sausages, fire up the grill, and get ready for an unforgettable meal!
Do you want to learn to smoke sausage on a pellet grill like a pro? Then look no further than BBQGrillGuides.
Our comprehensive guides provide step-by-step instructions, helpful tips and tricks, and delicious recipes for the perfect smoked sausage every time!
With our help, you'll be able to make mouthwatering meals that your family and friends will love. So don't wait any longer – start learning today with BBQGrillGuides!