Burgers are one of the best foods on the planet. The combination of meat, bread, and cheese is a flavor explosion that's impossible to ignore.
But what makes a burger great?
It's all about taste and texture. A burger needs to be perfectly cooked so that it stays moist and juicy inside—but not too moist! It should have enough heft to make you feel like you're eating something substantial, but not so much that it becomes a meatball in disguise. And it needs just enough toppings to enhance the flavors without overpowering them.
But what role does cheese play in all of this?
Cheese can add moisture and flavor to any burger, but there are some cheeses that are better than others at achieving these goals while still complementing the other ingredients.
In this article, we'll cover 7 great cheeses for burgers: to help you find your perfect cheese match for your next burger adventure.
Best Cheeses for Burgers
1. American Cheese
American cheese is a mild, white cheese that's made from a blend of cheddar and other cheeses. It has a mild flavor profile and melts well. Because it's not as flavorful as cheddar, American cheese is great for burgers if you're looking to add a little extra richness without overpowering the burger with a stronger cheese flavor.
American Cheese can be used in place of cheddar on your burger to give it an extra subtle richness or creamy texture, but still let the other flavors shine through. You can also mix it into your meat before cooking for an added creaminess and meltability.
American cheese has a mild flavor profile that's smooth and creamy with hints of saltiness and sweetness from the blend of cheddar and other cheeses used in its making process. It's not very pungent or strong like some other cheeses, so it won't overpower the other flavors in your burger with its own distinct taste profile—it will just add depth and richness as part of a full-flavored dish!
2. Cheddar Cheese
Cheddar cheese is made from cow's milk, and it's aged to give it a sharp, nutty flavor. It's often used in American cheeseburgers, but it can be found on many cheeseburgers around the world. The texture is creamy and smooth, and it melts easily.
Cheddar has a strong flavor that goes well with beef and other meaty flavors. It also blends well with other cheeses (like Swiss or Gouda) to create an array of different combinations that you can use on your burger.
The best way to use cheddar cheese on your cheeseburger is in slices or chunks. If you're looking for something more subtle than just plain old cheddar, try mixing in some blue cheese or gorgonzola for a little extra kick!
3. Swiss Cheese
Swiss cheese is semi-hard cheese, meaning it has a firm texture that can still be cut into slices. It's made from cow's milk and comes in different varieties, including Emmentaler and Gruyère.
Swiss cheese has a rich, nutty flavor that makes it perfect for burgers because it pairs well with other strong flavors like bacon or onions without completely overpowering them.
Swiss cheese is best when served as an accent on burgers—try adding slices of thin Swiss cheese to your burger patties right before they're ready to be grilled!
4. Blue Cheese
Blue cheese is a salty, tangy, and slightly pungent cheese that's usually made from cow's milk. It comes in many different varieties, but the most common ones are Roquefort, Gorgonzola, Stilton, and Danish blue.
Blue cheese has a crumbly texture and a creamy consistency when melted. It's best used as an ingredient on burgers because it adds a lot of flavor without being too overpowering (as long as you don't overdo it). It can also be eaten on its own as an appetizer or snack!
The flavor of blue cheese ranges from mild to sharp, depending on what type of blue cheese you're eating and how it's been aged. Generally speaking, though, blue cheeses are salty with hints of umami (a savory taste). They also have a tangy flavor that comes from lactic acid produced by bacteria during the aging process—this acid gives them their characteristic smell too!
Blue cheeses are great for adding just enough savory-ness without overpowering your burger with saltiness or other flavors that might clash with the meat itself; they also go well with fruit, like apples or pears. If you're looking for something a little more unique, try pairing blue cheese with nuts and olives—you'll be pleasantly surprised by how well the umami flavors complement each other!
5. Brie
Brie is a soft cheese with a creamy, rich texture. It's best known for its sweet and nutty flavor, which makes it an excellent choice for burgers.
Burgers are often made from ground beef, but you can also use ground turkey or chicken to make them leaner and healthier—and that's where Brie comes in. The sweetness of the cheese complements the meat and helps balance out the flavors. If you're making a veggie burger, brie is also an excellent option because it's so mild that it won't overpower other ingredients like grilled onions or bell peppers.
You can use brie on any kind of burger: classic beef with ketchup; turkey with pesto sauce; chicken with barbecue sauce and blue cheese crumbles… You get the idea! Just be sure not to overcook your burgers (or brie!), or else they'll fall apart before they reach your mouth!
6. Pepper Jack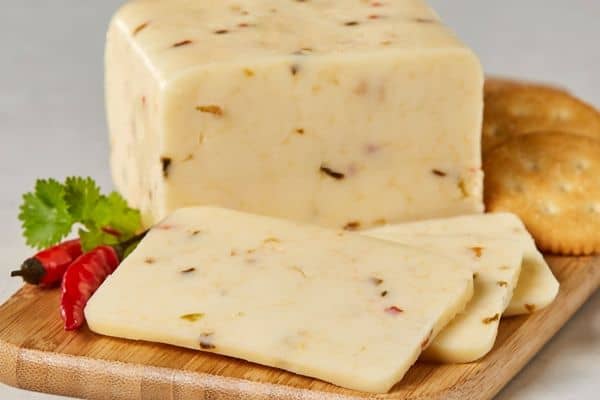 Pepper Jack is an American cheese that is a combination of Colby, Monterey Jack, and cayenne peppers. It has a medium-hard texture and a mild flavor that goes well with burgers.
This cheese has a sweet flavor with hints of spice from the cayenne pepper that's added during production. The sweetness comes from lactose while the spice comes from paprika extract added during processing. It also has hints of nutmeg and cumin that come from being aged in caves where those spices were once stored by monks centuries earlier!
Pepper Jack pairs nicely with burgers because it adds extra flavor without overpowering other ingredients like tomato or lettuce! You can also use it as an ingredient in soups or chili for added depth of flavor without adding too much saltiness.
7. Mozzarella
Mozzarella is the most versatile cheese for burgers. It can stand up to a lot of different flavors and textures, but it's also mild enough that it doesn't overpower the other ingredients in your burger.
It has a creamy texture and mild flavor, so it will melt into your burger without getting greasy or losing its shape.
If you want to add some mozzarella to your burger, try adding it just before you put the patty on the grill so that it melts but doesn't get stringy or oily.
If you're looking for something fancier than just adding plain mozzarella, use shredded or sliced mozzarella instead of grated—you'll get more coverage and less oiliness.
Tips for Adding Cheese to Burgers
The best burgers are made with the best cheese.
Cheese is a great addition to any burger, but there are a few things you need to know if you want to add it and make sure it's not just an afterthought.
Here are some tips for adding cheese to your burgers:
Choose the Best Cheese
The first thing you need to do when adding cheese to your burger is choose the right kind of cheese. There are tons of options out there, so think about what kind of flavors go best with your burger.
For example, if you're making a spicy burger with jalapeño peppers, maybe try a good sharp cheddar or pepper jack.
On the other hand, if you're making something more traditional like a classic cheeseburger then maybe try something like American or Swiss cheese instead.
Melt the Cheese Properly
Once you've selected the right kind of cheese it's time to melt it! You don't want all that deliciousness sitting on top of your burger without getting all melty-cheesy underneath all those juicy patties… so make sure that when it comes time for melting (more on this later) you do it right!
The best way to melt cheese is over low heat. This will give you plenty of time to make sure that all the cheese gets evenly distributed throughout your burger patty before it starts turning brown or crispy.
Don't Overcook Your Burger
Overcooked burgers can be dry, which makes them less appetizing than their juicy counterparts.
Make sure to check on them often while they're cooking and remove them from heat when they're finished cooking just before they turn from pink into gray/brownish-gray coloration since this means they've already reached medium rare status (which is the perfect doneness for a burger).
Lastly, don't forget the toppings! Once your patty is cooked, top it with some of your favorite ingredients and enjoy!
Conclusion
There's no such thing as the best cheese for a burger, because it's all about personal preference. That said, there are some cheeses that are better on burgers than others.
If you're looking for a classic cheese to top your burger with, choose American cheese. It's rich and creamy with a mild flavor that will complement the flavor of your hamburger patty and toppings without overpowering them.
If you're looking for something a little more unique, try adding aged cheddar to your burger—it'll add a sharp tanginess to the mix while keeping things rich and creamy at the same time. Or try blue cheese: it'll add an acidic kick that will wake up your taste buds!
When it comes to burgers, there is no wrong way to go! You can have fun experimenting with different cheeses until you find the one (or ones) that work best for your taste buds.