Grilling ribs on charcoal is a time-honored tradition that brings friends and family together for some delicious summertime fun.
But before you get to the point of enjoying your succulent barbecued ribs, there's some preparation involved to ensure they turn out just right.
From prepping the ribs to monitoring grilling temperature, this guide will help you master grill rib cooking on charcoal like a pro!
Learn how best to prepare your pork or beef cuts for maximum flavor, and discover tricks and tips for achieving perfectly cooked barbecue results every time with our simple step-by-step instructions – from start to finish!
So fire up those coals, and let's get ready to cook some mouthwatering grilled ribs on charcoal for backyard cooking today!
Preparing the Ribs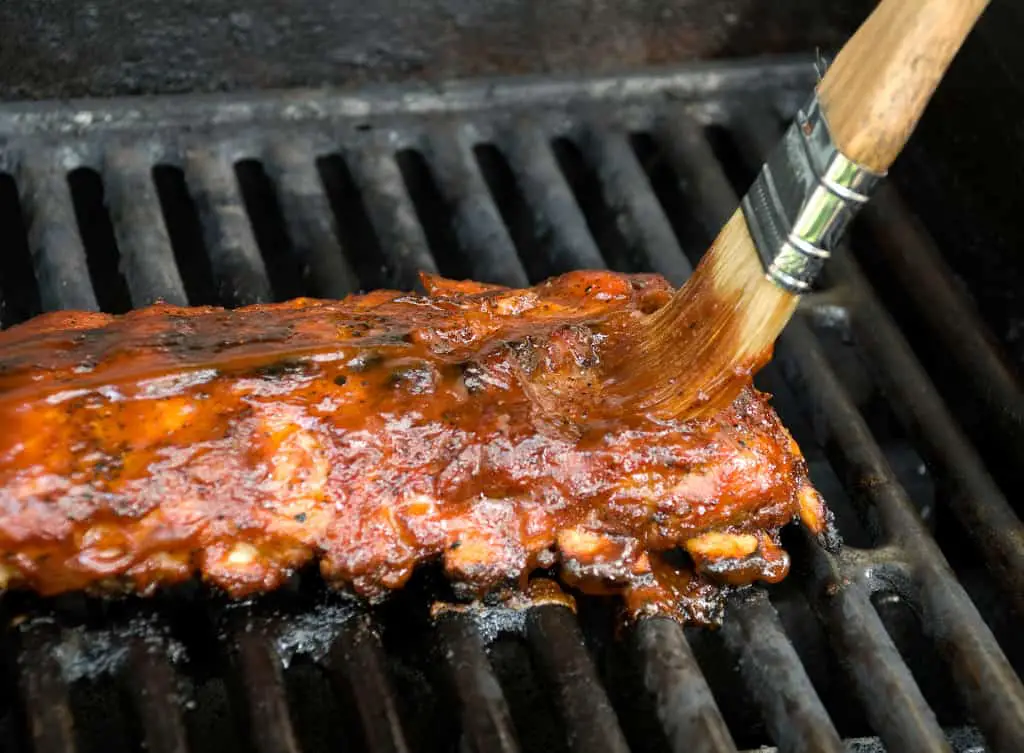 Preparing the ribs for grilling is an important step in ensuring a delicious and flavorful meal. Trimming off excess fat helps to reduce flare-ups, while seasoning with a dry rub or marinade adds flavor and moisture. Wrapping the ribs in foil can help them cook faster and keep them from drying out.
Trimming Excess Fat: Before you start preheating your grill, it's important to trim away any large pieces of fat that may be on the ribs.
This will help prevent flare-ups during cooking, as well as make sure that all of the flavors are concentrated on the meat itself instead of being lost in the fat.
Remove the membrane: Removing the membrane from the ribs can be a bit tricky. Start by inserting a butter knife underneath the membrane.
Use your fingers to loosen it before gripping the section with a paper towel. From there, you can easily peel it away.
Seasoning: Once you've trimmed any excess fat, season your ribs with either a dry rub or marinade.
A dry rub comprises spices such as garlic powder, paprika, cumin, chili powder, and salt, which can be rubbed directly onto the meat before grilling.
Alternatively, you could use a marinade which usually consists of oil (such as olive oil), vinegar (such as apple cider vinegar), and herbs/spices (such as rosemary).
Marinating your ribs overnight will give them more flavor, but if you don't have time for this, just rubbing some seasoning onto them before grilling should do fine.
To do this, simply place each rack of seasoned ribs onto its sheet of aluminum foil; fold over one side until completely sealed; then fold over the remaining sides until sealed again – making sure there are no gaps where steam could escape.
Place the wrapped racks directly onto the preheated grill grate at medium heat for about 30 minutes per side or until an internal temperature of 165°F is reached when tested with an instant-read thermometer inserted into the thickest part without touching the bone.
Once the ribs are prepared, it's time to move on to preheating the grill and getting ready for a fantastic BBQ experience.
Preheating the Grill
Preheating the Grill is an important step in grilling ribs. A charcoal grill should be preheated for at least 15 minutes before adding the ribs to ensure optimal cooking temperature.
To preheat a charcoal grill, begin by arranging the coals on one side of the grill so that they form a single layer with space between each coal.
This will allow for even heat distribution and prevent flare-ups from occurring during cooking.
Once all of the coals are arranged, light them using lighter fluid or another type of fuel and wait until they turn white hot before adding any food to the grill.
It is important to wait until your coals reach their peak temperature before adding any food to your grill, as this ensures you get maximum flavor out of your meal.
If you add food too soon, it can cause uneven heating, which can lead to undercooked or burnt spots on your meat.
Additionally, if you add food too soon after lighting your coals, there may still be traces of lighter fluid present, which could impart an unpleasant taste to whatever you're cooking.
When preheating a gas grill, ensure all burners are turned up high and close the lid while waiting for it to reach its desired temperature (usually around 400°F).
It is also important not to leave any open flames unattended, as this could result in a fire hazard if left unchecked for too long.
Once heated thoroughly, adjust each burner accordingly depending on what type of dish you're preparing – some dishes require higher grill temperatures than others, so keep this in mind when setting up your gas grill before use.
Before you place the ribs on the grill, it is important to preheat your charcoal grill.
This ensures that the heat will be even and consistent throughout the cooking process. Now let's move on to placing the ribs on the grill.
Grilling Ribs on Charcoal Grill
When it comes to grilling ribs, you want to ensure they are placed correctly on the grill.
To ensure even cooking, place your ribs with sauce in a single layer and leave enough space between them so that heat can circulate evenly around each rib.
If you have a large rack of ribs, cut it into smaller sections before placing it onto the grill.
If you're using a gas or charcoal grill, preheat your grill for at least 10 minutes with all burners set to medium-high heat or until hot coals are ashed over.
Once heated, reduce one side of the burner(s) down to low heat while leaving another side(s) on high heat (or move some of your hot coals off to one side).
This will create an indirect/direct heating zone ideal for slow-cooking meats like ribs without burning them.
Once your grill is ready and hot enough, carefully lay out your prepared ribs onto direct/indirect heating zones making sure not to overcrowd them.
Place thicker parts closer to the direct heat source and thinner parts away from the direct heat source if possible; this will help cook everything evenly throughout without burning any part of the meat too quickly due to uneven thicknesses in certain areas.
You may need two separate batches depending on how much food you're preparing but always remember: don't overcrowd.
Once the ribs have cooked for 15 minutes, flip them over (if needed). Continue cooking with the lid closed for another 15 minutes or until the internal temperature reaches 165°F (74°C).
When done, remove from heat and serve immediately.
Properly placing the ribs on the grill is key to achieving that perfect smoky flavor. You may add kosher salt, black pepper garlic powder or onion powder when the ribs are nearly done.
Now, let's move on to how long and at what proper temperature you should grill your ribs for the best results.
Grilling Time & Temperature
Grilling time and temperature are two of the most important factors when preparing delicious ribs.
The ideal temperature for grilling ribs is between 225-250°F, allowing them to cook slowly and evenly without burning or drying out.
To achieve this temperature, you'll need to adjust your charcoal grill accordingly. Start by adding enough coals to form a single layer across the bottom of the grill.
Then spread them out in an even layer with a pair of tongs before lighting them up with a lighter fluid or chimney starter.
Once your coals have been lit, place the lid on top of your grill and let it preheat for 10-15 minutes until it reaches the desired temperature (225-250°F).
You can use an oven thermometer placed inside the closed lid to check its accuracy.
Once preheated, add some wood chips or chunks onto your hot coals for extra flavor, then open up your vents slightly to maintain consistent heat throughout cooking time.
When ready, place each rack of ribs directly over medium heat on one side of the grate and close the lid again while keeping all other vents open as much as possible – this will help ensure that both sides get cooked evenly without any flare-ups from fat dripping into flames below.
Grill each side for about 3-4 minutes per pound at 250°F until they reach an internal temperature of 145°F (use a meat thermometer inserted into the thickest part), then remove from heat immediately after reaching desired doneness – overcooking will result in a dry rubbery texture.
Finally, brush your favorite barbecue sauce onto both sides before serving warm off the direct flame with favorite sides like coleslaw or potato salad.
Grilling time and temperature are essential components of achieving the perfect BBQ.
Now that you know how to get your tender ribs up to the right temperature, it's time to learn about the finishing touches that will make them even more delicious.
Finishing Touches
When finishing off your grilled ribs, there are a few key steps that will ensure you get the most out of your meal.
The first step is brushing on some barbecue sauce or glaze. This will give the ribs an extra layer of flavor and help them caramelize while cooking.
Be sure to brush both sides of the ribs with BBQ sauce before flipping them one more time and letting them rest for at least five minutes before serving.
Another important tip when grilling ribs is to ensure they are cooked through but not overdone.
You can check this by inserting a thermometer into the thickest part of the meat; if it reads 145°F, they're done.
If you don't have a thermometer handy, you can also test for doneness by pressing down lightly on top of each rib; if it gives slightly under pressure, they're ready to go.
Finally, let your grilled ribs rest for at least five minutes after taking them off the grill before serving so that all those delicious juices stay in place and don't run out onto your plate as soon as you cut into them.
This resting period also helps keep your ribs tender and juicy – something everyone appreciates about perfectly cooked BBQ.
Adding a finishing touch to your grilled ribs can make all the difference in flavor and presentation.
From sauces to seasonings, there are many ways to customize your dish for maximum deliciousness.
Now let's move on to exploring some tasty side dishes that will pair perfectly with your grilled ribs.
Best Side Dishes for Grilled Ribs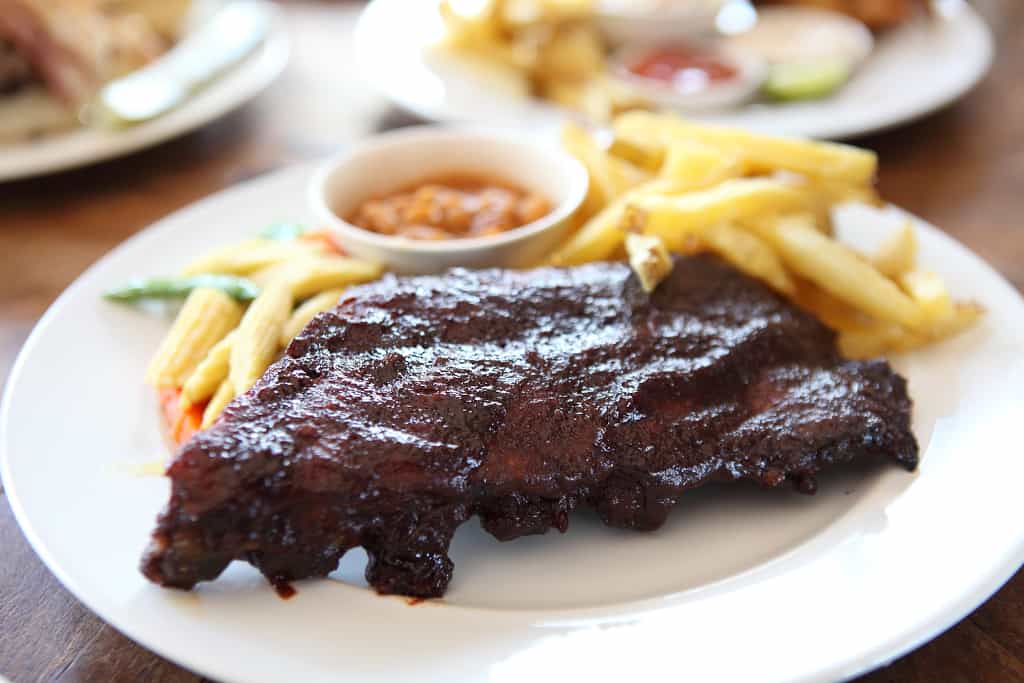 When it comes to grilled ribs, side dishes are an important part of the meal.
The right sides can help bring out the flavor of the ribs and make for a complete and satisfying meal.
Here are some great options that pair well with grilled ribs:
Potato Salad: Potato salad is a classic side dish with almost any type of meat, including grilled ribs. It's easy to make and can be customized with your favorite ingredients like bacon, cheese, chives, or pickles.
Coleslaw: Coleslaw is another popular side dish that pairs perfectly with BBQ ribs. This creamy slaw adds a crunchy texture to the plate while providing a cool contrast to the smoky flavors in the rib meat.
Corn on the Cob: Corn on the cob is always a crowd-pleaser when served alongside barbecued meats like ribs. Boil or steam fresh ears of corn until tender, then brush them lightly with butter before serving for extra flavor and moisture.
Baked Beans: Baked beans are another delicious option for pairing up with BBQ-style meals like smoked or grilled pork ribs. Choose from traditional recipes made from navy beans or try something new such as black bean chili baked beans for added spice.
Macaroni & Cheese: Macaroni & cheese is an excellent choice if you're looking for something comforting yet still flavorful enough to stand up against bolder tastes like those found in barbecue sauce-slathered pork rib racks.
Try making your homemade macaroni & cheese using sharp cheddar cheese and top it off with breadcrumbs before baking to get maximum cheesy goodness in every bite.
For lighter fare, opt for green salads tossed together using crisp lettuce varieties such as romaine hearts and other colorful vegetables such as tomatoes, carrots, and cucumbers, plus optional add-ins like croutons or shredded cheeses – all topped off by your favorite dressing.
FAQs in Relation to How to Grill Ribs on Charcoal
How long does it take to grill ribs on a charcoal grill?
Grilling ribs on a charcoal grill typically takes around 2 to 3 hours. The amount of time depends on the size and thickness of the ribs, as well as how hot your fire is. To ensure that they are cooked through without burning, it's essential to keep an eye on them and turn them frequently. Additionally, you can wrap them in foil after about 1 hour for added moisture and tenderness. Lastly, make sure to check with a meat thermometer that the internal temperature has reached at least 145°F before serving.
Do you wrap ribs in foil on a charcoal grill?
Yes, wrapping ribs in foil on a charcoal grill is an effective way to cook them. The foil helps keep the moisture and prevents the ribs from drying out or burning. It also keeps the flavor of your rubs and marinades locked in while they cook. Wrapping the ribs also allows you to add additional liquid, such as beer, wine, or apple juice, for extra flavor without having it evaporate away during cooking. Finally, wrapping the ribs helps to speed up the cooking process so you can enjoy your meal sooner.
How to slow cook ribs on a charcoal grill?
To slow-cook ribs on a charcoal grill, begin by prepping the ribs. Remove any membrane from the back of the ribs and season with your favorite rub or marinade. Place the ribs onto a medium-hot charcoal fire and cover them with a lid. Cook for 1 hour, flipping every 15 minutes to ensure even cooking. Reduce heat to low and continue cooking for 2 hours until tender, flipping every 30 minutes. Once done, remove from heat and rest for 10 minutes before serving. Enjoy.
Do you flip ribs on a charcoal grill?
Yes, you can flip ribs on a charcoal grill. When grilling ribs, it is important to ensure that the heat is evenly distributed across the entire surface of the meat. To do this, you should use indirect heat and rotate your ribs every few minutes to ensure even cooking. Flipping your ribs will help them cook more evenly and prevent burning or charring on one side. Be sure to use tongs when flipping so as not to puncture the meat with a fork or spatula.
Conclusion
With proper preparation, preheating, and grilling time & temperature, you can create tender and juicy ribs that will be sure to please your guests.
Don't forget to add some delicious side dishes like coleslaw or potato salad for a complete meal!
Grill ribs on charcoal with confidence, knowing that you have all the tips and tricks necessary for success.
If you're looking to take your grilling skills up a notch, then this is the site for you!
We have all the tips and tricks needed to make mouth-watering ribs on charcoal.
Our guides provide step-by-step instructions from start to finish so that anyone can achieve restaurant-quality results in their backyard.
Whether it's learning how to choose the best cuts of meat or mastering temperature control, we'll help get your BBQ game sizzling hot!
So fire up those hot coals, and let us show you how easy it is to grill like a pro with our expert advice today.