Brisket smoking for beginners is an art that requires patience, practice, and the right equipment.
For those new to this classic BBQ technique, it's important to understand how to choose the perfect brisket cut and prepare it properly before you begin your journey into smoked meat mastery.
Then learn about setting up your smoker correctly, controlling temperature and smoke levels, as well as techniques for ensuring a juicy finished product with every cook.
In this blog post, we'll discuss these key elements in detail so you can start making restaurant-quality briskets at home like a pro!
Choosing the Right Brisket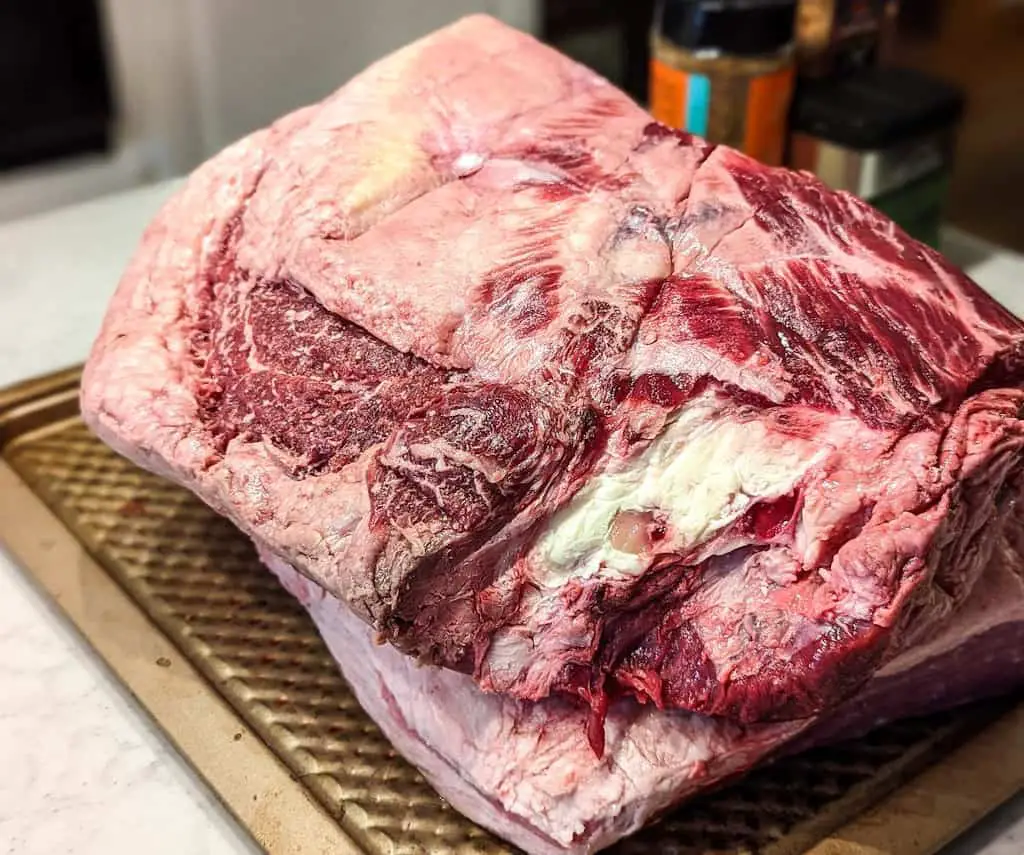 There are eight main cuts of meat known as the primal cuts that you can buy from butcher shops, and beef brisket is a cut of beef that comes from the lower chest of a cow.
When selecting a brisket, there are several factors to consider. The first is the fat cap. Look for one with a good layer of fat on top that will help keep the meat moist and flavorful while it cooks.
Additionally, look for marbling throughout the meat, which indicates that it has been well-marbled and will be juicy when cooked.
Another important factor to consider is color and smell. Avoid any briskets that have discoloration or an off smell, as this could indicate spoilage or poor-quality meat.
When choosing a cut of brisket for smoking, you have two main options to choose from: flat cut brisket or packer brisket.
The brisket flat is a single-muscle cut that is typically 10 pounds or less and has a moderate fat content. The Packer cut consists of flat and point cuts and can weigh up to 20 pounds when trimmed. It has more fat marbling throughout for an intense flavor.
Ultimately, it comes down to personal preference regarding which type of brisket you should choose for smoking.
If you're buying pre-packaged brisket in butcher paper from your local grocery store, make sure to select grade brisket and check the expiration date before purchasing as well.
Finally, consider the size when choosing your brisket – larger cuts can take longer to cook, so if you're short on time, opt for smaller pieces.
Additionally, remember that bigger isn't always better – sometimes smaller cuts can be more tender and flavorful than their larger counterparts.
No matter what size cut you choose, make sure to trim away any excess fat before cooking, as this can lead to flare-ups in your smoker or grill, which can cause uneven cooking temperatures and ultimately affect the flavor and texture of your finished product.
When choosing the right brisket, it's important to consider the size, fat content, and grade of meat.
Now that you have chosen your brisket, let's move on to preparing it for smoking with your favorite brisket recipe.
Preparing the Brisket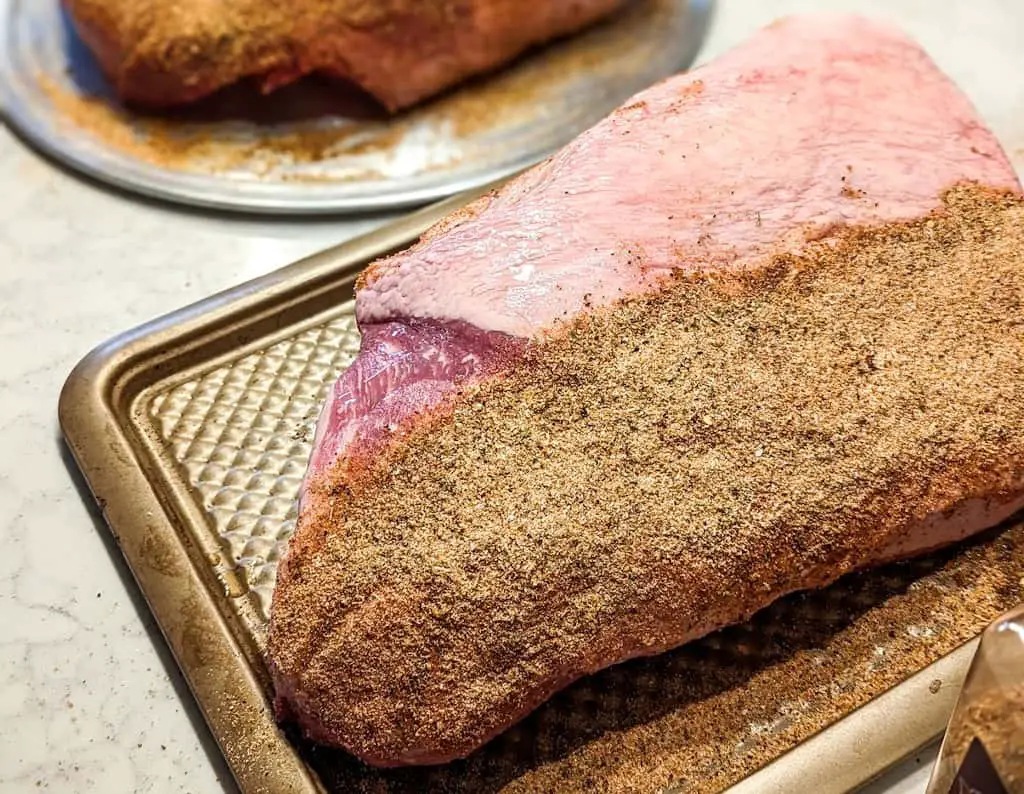 Preparing the Brisket is an important step in creating a delicious, juicy brisket.
Before you begin cooking your brisket, it's essential to prepare it properly for the smoker. Start trimming excess fat from the brisket and season generously with your favorite brisket rub, such as Traeger beef rub, for extra flavor.
Alternatively, you may season the beef brisket with kosher salt, black pepper, and garlic powder.
Make sure to get into the nooks and crannies so that every bite has flavor.
Once seasoned, let it sit in the refrigerator overnight to allow flavors to penetrate the meat. This will help ensure that your brisket is as flavorful as possible.
When ready to cook, take it out of the refrigerator and let it come up to room temperature before placing it on the smoker or grill.
This will help prevent any sudden temperature changes, which can cause uneven cooking or even burning of the outside layer while the inside remains raw or undercooked.
To further enhance flavor, consider brushing on some oil before putting it onto heat sources such as charcoal briquettes or wood chips/chunks if using a gas grill/smoker combination unit.
Once you have the brisket prepped, it's time to set up your smoker and get ready for some delicious smoked brisket.
Setting Up Your Smoker
Setting up your smoker is an important step in ensuring you get the best results when smoking a brisket.
Whether you are using a charcoal smoker, electric smoker, wood pellet smoker, or propane smoker, you should know your smoker setup and how to use your equipment safely.
Also, it's essential to choose a smoker that is large enough to fit your brisket and has adjustable temperature settings.
If you are using charcoal, make sure you have enough for several hours of smoking; if you use wood chips, ensure there is plenty on hand as well.
When setting up the smoker, be sure to place it away from any flammable materials or objects, such as buildings or trees.
Make sure that the area around the smoker is clear of debris and combustible material like leaves and grass clippings.
Positioning your smoker correctly will help prevent flare-ups caused by wind gusts or other environmental factors.
Once you've chosen a safe spot for your smoker, light it according to manufacturer instructions and wait until it reaches the desired temperature before adding food items such as brisket or ribs.
The ideal temperature range for smoking meats is between 225°F – 250°F (107°C – 121°C).
Once at this temperature range, add fuel (charcoal/wood chips) every hour or so, depending on how much smoke flavor you want in your meat product.
It is also important to check periodically during cooking time whether more fuel needs to be added and if temperatures need adjusting with vents open/closed accordingly.
Too high temperatures can cause food items to cook too quickly. In contrast, low temperatures can result in undercooked foods, which may not be safe for consumption due to bacteria growth risks associated with lower than recommended cooking times/temperatures.
Additionally, keep an eye out for any signs of fire hazards near the cooker, such as sparks coming from inside it due to improper ventilation issues, etc., should these occur, immediately extinguish them safely without risking injury or further damage occurring.
Finally, once finished cooking, allow all coals used during the process to cool down completely before disposing of them safely into non-combustible containers, ready for disposal when convenient. Never leave lit coals unattended.
Now that your smoker is ready, it's time to learn how to smoke your brisket. In the next section, we'll cover all the steps to smoking a delicious brisket.
Smoking Your Brisket
Smoking your brisket is a great way to get that delicious, smoky flavor into the meat. To begin, you'll need to prepare your brisket by trimming off any excess fat and seasoning it with kosher salt and black pepper.
Once prepared, place the brisket on the smoker grate and set the temperature to 225-250°F (107-121°C). Smoke for 1-2 hours per pound of meat until it reaches an internal brisket temperature of 195°F (90°C).
Monitoring Temperature: The key to smoking a good and tender brisket is monitoring its temperature throughout the process.
Use a digital thermometer probe or remote thermometer so you can check on your food without having to open up the smoker lid too often.
This will help keep temperatures consistent for even cooking throughout.
Wood Chips: For added flavor, add wood chips such as hickory or mesquite when you start smoking your brisket.
You can also use wood chunks if desired but be sure not to overdo it as this could cause an overly smoky taste which may overpower other flavors in your dish.
Wrapping: After several hours of smoking, wrap your brisket in aluminum foil and continue cooking until it reaches an internal temperature of 195°F (90°C).
This helps keep moisture inside while preventing further smoke absorption from occurring, which can lead to an overly smoky taste in some cases.
Resting Time: After removing from the heat source, allow time for resting before slicing into portions or serving whole as desired; at least 15 minutes should do, depending on the size/weight of the cooked cut.
During this time, juices redistribute within muscle fibers resulting in juicier slices once served.
Finally, finish with a light glaze using BBQ sauce or honey mustard if desired. Brush onto the surface lightly just before serving, so the sugar content does not burn during the final few minutes spent under a direct heat source before consuming.
Smoking your brisket is a great way to bring out the flavor and create a delicious, tender meal.
Now that you know how to smoke your brisket, it's time to learn about resting and serving it for maximum taste.
Resting & Serving Your Brisket
Once your brisket is done smoking, it's time to rest and serve. Resting the meat allows all of the juices to be reabsorbed into the fibers of the brisket, resulting in a more tender cut.
Letting your brisket meat rest for at least 30 minutes before slicing or serving will ensure you get maximum flavor and texture out of your meal.
When it comes time to slice, ensure you are cutting against the meat's grain. This means that instead of cutting with the lines running through your brisket, you should cut perpendicular to them so that each bite is as tender as possible.
Slicing against the grain also helps keep moisture locked in, which makes for an even juicier piece of tender meat when served.
Serving up your smoked brisket can be done however you like – on a plate with sides or piled high on a bun with some barbecue sauce and coleslaw.
No matter how you choose to enjoy it, just remember: slicing against the grain ensures maximum flavor and texture.
FAQs in Relation to Brisket Smoking for Beginners
How to smoke a brisket for beginners?
To get started, you'll need a smoker or grill with an indirect heat source. Start by prepping the brisket with your favorite brisket rub and let it sit for at least an hour before smoking. Place the brisket on the smoker grate fat side, close the lid, and adjust vents as needed to maintain a temperature of 225-250°F. Smoke until internal temperature reaches 195-205°F (about 1 ½ – 2 hours per pound). Wrap in foil and cook until internal temp reaches 205-210°F (1 – 1 ½ hours more). Let rest for 30 minutes before slicing against the grain for maximum tenderness. Enjoy.
How long does it take to smoke a brisket?
Smoking a brisket can take anywhere from 8 to 16 hours, depending on the size of the brisket and the temperature of your smoker. Generally, you should plan for 12-14 hours at 225°F (107°C). The key is to maintain an even temperature throughout the entire cooking process. You'll also want to check for doneness with a meat thermometer inserted into the thickest part of the brisket; it should read 195°F (90°C) when done. Finally, let your smoked brisket rest for 30 minutes before slicing or serving.
How long should you smoke a brisket at 225?
The ideal cooking time for a brisket at 225°F is between 1.5 to 2 hours per pound of meat. This means an 8-pound brisket should be cooked for 12 to 16 hours. It's important to keep the temperature consistent throughout the entire cook, so it's best to use a digital thermometer and adjust your smoker or grill accordingly. Additionally, you should always wrap your brisket in foil after 4-6 hours of smoking and add some liquid (apple juice, beer, etc.) before wrapping it up tightly. Doing this will help ensure that your brisket comes out tender and juicy.
What is the 3 2 1 method for smoking brisket?
The 3 2 1 method for smoking brisket is a popular technique to achieve the perfect smoked brisket. The process involves smoking the meat at 225°F (107°C) for 3 hours, wrapping the brisket in foil, and continuing to smoke it at 225°F (107°C) for another 2 hours, then unwrapping the foil and increasing the temperature of your smoker or grill to 300-325°F (149-163°C) until an internal temperature of 203–205 °F (95–96 °C). This will ensure you get a tender, juicy brisket with great flavor.
Conclusion
Smoking a brisket is an art form that takes practice and patience to perfect. With the right preparation, equipment, and technique, you can create delicious smoked briskets that impress your friends and family.
Brisket smoking for beginners doesn't have to be intimidating; with these tips in mind, you'll be well on creating mouth-watering dishes every time!
If you're looking to become an expert in brisket smoking, look no further!
BBQGrillGuides is the ultimate source for all your grilling needs. From helpful guides on how to smoke a perfect brisket every time to recommendations on equipment and meats that will take your backyard barbecues up a notch, we've all covered it. So don't wait any longer – start learning today with BBQGrillGuides, and soon enough, you'll be the master of your grill!