Are you a BBQ enthusiast who is looking for an easy and straightforward way to clean your pellet grill?
If so, then you've come to the right place! How to clean a pellet grill like a pro seems like an intimidating task, but with our 5 simple steps of deep cleaning, it doesn't have to be.
We'll cover everything from cleaning the grates and grease tray all the way down to giving your exterior finish some extra love.
So let's dive into how you can quickly and easily clean your pellet grill in no time, starting with our first step: cleaning the grill grates!
Cleaning the Grill Grates
Cleaning the grill grates is an important part of maintaining your BBQ.
The grates are where all the cooking action happens, so keeping them clean and free from debris is essential. Here's how to do it:
Start by removing the heat baffle and grates from your BBQ. Use a wire brush or metal scraper to remove any stuck-on food particles or grease. Make sure you get into all the nooks and crannies.
Once you have removed as much debris as possible, soak the grates in warm soapy water for at least 15 minutes. This will help loosen up any stubborn bits of dirt and grease that may be clinging on.
After soaking, use a scrubbing pad or steel wool to give them a good scrub down before rinsing off with fresh water.
If there are still some stubborn spots, try using a degreaser or grill cleaner like Simple Green All-Purpose Cleaner & Degreaser or Green Heavy-Duty BBQ & Grill Cleaner to break down any remaining grease and oil residue.
Be sure to rinse thoroughly after using this product.
Finally, dry off your cast iron grill grates with a paper towel before returning them to your BBQ for storage until next time.
Regular cleaning like this ensures that your grill remains in top condition for years of delicious barbecues ahead.
To ensure your wood pellet grill is properly cleaned, it's important to start by deep cleaning the cast iron grill grates.
Once that's done, move on to cleaning the grease tray for a thorough cleaning process.
Cleaning the Grease Tray
Cleaning the grease tray or drip tray is an important part of maintaining your pellet grill.
Depending on the model, the grease tray or grease bucket should be emptied and cleaned regularly to prevent build-up that can cause flare-ups or other problems with your grill.
To clean the drip tray liner, remove it from the grill's bottom. Empty any remaining debris or old grease into a metal container for disposal.
Once you have removed all of the debris, use warm soapy water and a degreaser to scrub away any stubborn residue on both sides of the pan.
Make sure to rinse off all soap suds before returning them to their place in your grill.
If you notice any rust spots on your grease drip tray, remove them using steel wool or sandpaper and then apply some cooking oil over them to protect against further corrosion.
If necessary, replace rusty parts with new ones, as they may not be able to hold up under high temperatures anymore due to their weakened state caused by rusting.
Once the grease drip tray is clean, you can move on to cleaning the pellet hopper, which should be done regularly to ensure your grill runs smoothly and efficiently.
Cleaning the Pellet Hopper
Cleaning the pellet hopper is an important part of maintaining your pellet grill. The pellet hopper holds the pellets that are used to fuel your grill, and it needs to be cleaned regularly to keep it working properly.
The first step in cleaning the pellet hopper is to empty out any remaining pellets. This can be done by either shaking or tapping on the side of the hopper until all of the pellets have been emptied out into a container for disposal or reuse.
Once you've emptied out all of the pellets, you should use a vacuum cleaner with a hose attachment to clean up any debris that may have accumulated inside the hopper over time.
Be sure not to use too much suction, as this could damage some parts inside of your grill. Compressed air can also be used for this task if you don't have access to a vacuum cleaner.
After vacuuming or blowing away any dust and debris from the inside of your pellet hopper, take some warm soapy water and wipe down both sides of each wall inside with a disposable cloth or sponge before rinsing off with clean water afterward.
Make sure that no soap residue remains after wiping down each wall as this could affect how well your grill works when using new pellets later on down the line.
Finally, ensure that there are no obstructions blocking airflow through both sides of your pellet hopper, such as leaves or twigs, which could prevent proper ventilation while cooking food on your grill later on down the line if left unchecked now during maintenance time.
Once everything has been cleared from within and around both sides of your pellet hopper, it is ready for use again.
Cleaning the pellet hopper is an important part of maintaining your pellet grill.
By regularly cleaning it, you can ensure that your grill runs optimally and continues to produce delicious meals for years to come.
Now let's move on to cleaning the exterior of the grill.
Cleaning the Exterior of the Grill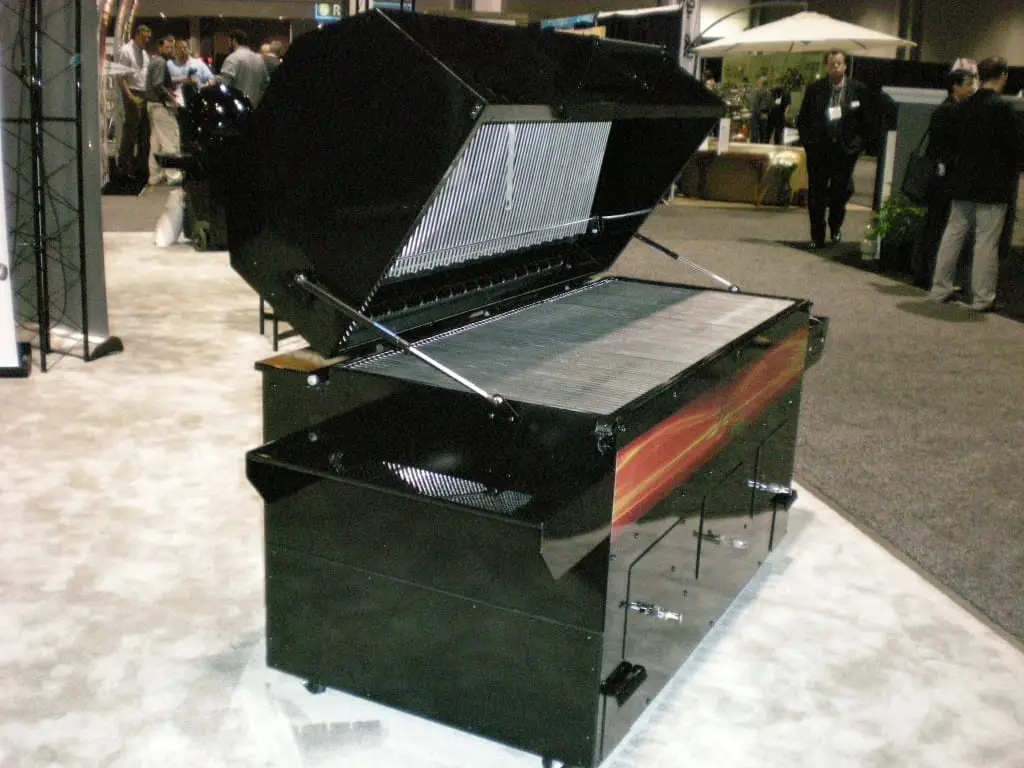 When it comes to cleaning the exterior of your grill, you want to make sure that you are taking the time and effort to do it properly.
Start by wiping down the outside of your grill with a soft disposable cloth or sponge and mild dish detergent.
This will help remove any dirt, grease, or debris that may have accumulated on its surface. Make sure to pay special attention to areas around knobs and handles, as these can be hotspots for grime buildup.
Once you've wiped down the grill's exterior, rinse any remaining soap residue with clean water.
Then dry off all surfaces thoroughly using a lint-free cloth or paper towel before storing away in an area where moisture won't accumulate, such as under a patio cover or inside a garage.
If there is rust present on your grill's exterior, then use steel wool pads soaked in white vinegar to scrub away at it until it has been removed completely.
Afterward, rinse off any remaining vinegar residue with clean water and dry off all surfaces thoroughly before storing away again in an area where moisture won't accumulate, such as under a patio cover or inside a garage.
Finally, if you notice any scratches on the metal surfaces of your outdoor BBQ, then use automotive wax designed specifically for stainless steel surfaces.
This can help protect against further damage from weathering elements like rain and sun exposure while also giving them back their original shine.
Regular cleaning of the exterior of your pellet grill will help maintain its appearance and ensure a longer lifespan.
Now, let's move on to the finishing touches that can take your grilling experience to the next level.
Finishing Touches
Reassembling the Grill
Once all of the parts have been cleaned, it's time to reassemble the grill. Begin by replacing any worn-out gaskets or seals that may have been removed during cleaning.
Make sure they are securely in place and properly sealed before continuing with assembly.
Next, replace any removable components such as grates, burners, heat shields, and flavorizer bars.
It is important to ensure that each part is firmly secured into place for the proper operation of your grill.
Replacing Parts
If you find that some of your parts need to be replaced due to wear and tear or damage from cleaning, make sure you purchase replacements from a reputable source to fit correctly on your grill model.
If possible, try to match up existing pieces with new ones for an exact fit; this will help prevent problems down the road when using your BBQ equipment again.
Additionally, if any small screws or nuts are missing after reassembly, check online retailers for replacement hardware kits specific to your brand/model of BBQ equipment.
Testing Your Grill
Before firing up the grill again, it is always a good idea to test all internal components before use, just like you would do when setting up a new unit initially.
Turn on gas valves slowly while checking connections for leaks (soapy water works great here).
Once everything looks good, fire up those burners. Check the flame pattern at each burner location, ensure flames are consistent across all areas and adjust accordingly if needed until desired results are achieved.
Then shut off the gas valve(s) and let it cool completely before covering it back up or storing away until the next use.
FAQs in Relation to How to Clean a Pellet Grill (5 Simple Methods)
What is the best way to clean a pellet grill?
The best way to clean your pellet grill is to start by putting off the fire and letting the pellets cool. Then, use a grill brush or vacuum cleaner to remove any debris from the grates and burn the pot. Next, use warm soapy water and a sponge or clean cloth to wipe down all grill surfaces, including the lid, firebox, cooking grates, hopper lid, and auger tube. Finally, rinse with fresh water and dry thoroughly before reassembling your pellet grill for future use.
Can I clean a pellet grill with a pressure washer?
No, you should not use a pressure washer on your pellet grill as it can damage the exterior and may penetrate the seals of the grill, causing future problems.
What is the best way to store my pellets when my pellet grill is not in use?
The best way to store your pellets is in an airtight container away from moisture and direct sunlight. Keeping them in a cool, dry area will help ensure they last longer and burn more evenly when used.
Are pellet grills easy to clean?
Yes, pellet grills are easy to clean. The ash from the pellets is easily removed by using a vacuum or brush and then wiped down with a damp cloth. Additionally, many pellet grills come with removable grease trays that can be cleaned. With regular maintenance, your pellet grill will stay in great condition and provide you with delicious meals for years to come.
Conclusion
Overall, cleaning a pellet grill is not as difficult as it may seem. With the five simple methods outlined above, you can easily keep your pellet grill in tip-top shape and ensure that it will last for years to come.
Taking the time to clean your pellet grill regularly will help you get the most out of your grilling experience and ensure that every meal you prepare tastes its best.
Cleaning a pellet grill doesn't have to be intimidating; follow these five steps, and you'll be ready to start cooking again in no time!
Are you looking for the best ways to clean your pellet grill? Look no further! BBQGrillGuides is here to provide five simple steps to help keep your pellet grill in top condition.
From deep cleans and griddle scrapers to using a putty knife or even diluted dish soap and water, we've got all the tips, tricks, and advice you need for perfect results every time.