Are you looking for a foolproof way how to control the temperature on a charcoal grill? Look no further! We've compiled 5 easy methods to help you get the most out of your grilling experience.
From using a thermometer, adjusting airflow, and moving coals around to adding more charcoal or using heat deflectors – controlling the temperature of a charcoal grill has never been easier.
Read on to learn these simple techniques and find out how they can make all the difference in creating perfectly cooked meals every time. Control the temperature on your charcoal grill with ease today – let's begin!
1. Use a Grill Thermometer
A grill thermometer is an essential tool for any griller. It allows you to accurately measure the temperature inside your charcoal grill and adjust it accordingly.
Place the thermometer in the center of the cooking grate, away from direct heat sources, and check it regularly to ensure that your food is cooked at its desired temperature.
Using a thermometer can help prevent overcooking or undercooking food on your grill. Overcooked meats will be dry and tough, while undercooked meats may not reach their safe internal temperatures, which could lead to foodborne illnesses.
A digital thermometer with a probe inserted into the meat can give you accurate readings of both surface temperature and internal temperatures, so you know when your foods are done cooking.
By following these tips and tricks, plus keeping an eye on your trusty Grill Thermometer throughout each cookout session, you should be able to masterfully maintain consistent temperatures across all types of dishes no matter what type of fuel source (charcoal/wood/gas) you prefer using most often.
Using a grill thermometer is an effective and easy way to ensure your charcoal grill operates at the optimal temperature. Next, we'll look at how adjusting airflow can help you control the temperature of your charcoal grill.
2. Adjust Airflow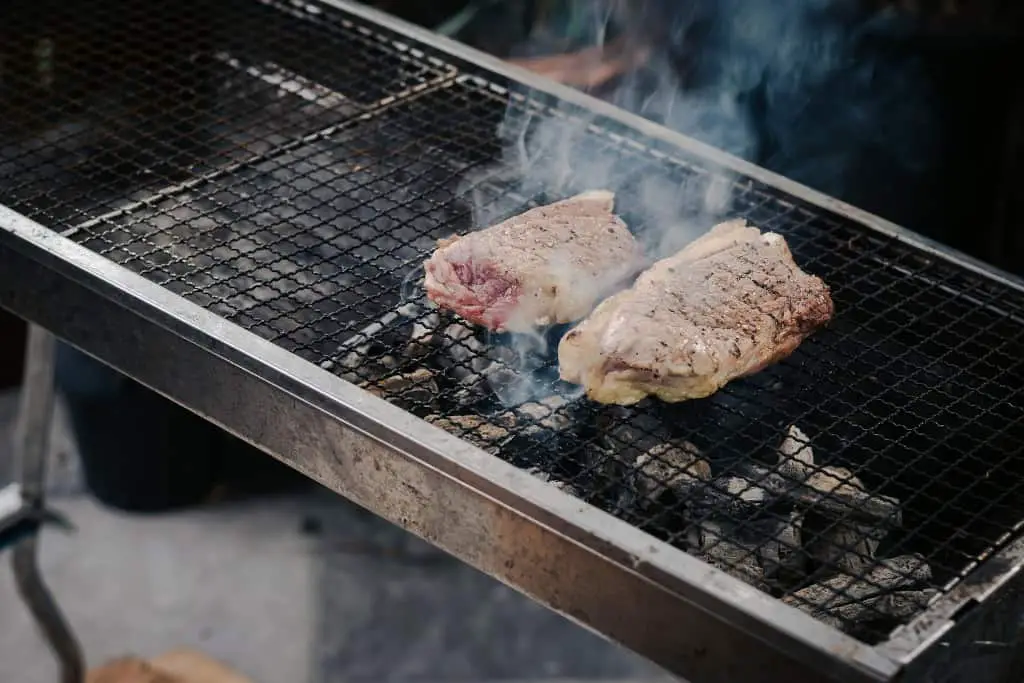 Adjusting the airflow in your charcoal grill is an important part of achieving the perfect grilling temperature.
The amount of extra oxygen flowing into your charcoal grill will affect its temperature, so it's important to adjust the vents on top of your charcoal grill accordingly.
If you want a higher temperature, open up both intake dampers and exhaust dampers fully; if you want a lower temperature, close them partially or completely.
When adjusting the airflow, ensure all four sides are adjusted evenly and symmetrically.
This will ensure that heat is distributed evenly throughout the cooking chamber and prevent hotspots from forming in one area while leaving other areas cooler than desired.
Additionally, when adjusting for more heat, be careful not to overdo it, as too much air can cause flare-ups which can ruin food and create dangerous situations with hot embers flying out of control.
It's also worth noting that different types of fuel burn at different temperatures, so depending on what fuel you're using (charcoal briquettes vs. lump wood), you may need to adjust the airflow differently for optimal results.
Charcoal briquettes tend to burn hotter than lump wood, so if you're using briquettes, less airflow might be necessary, whereas, with lump wood, more airflow might be needed to achieve desired temperatures.
Adjusting the airflow of your charcoal grill is a great way to control the temperature, but you can also move the coals around to achieve an even heat.
3. Move Coals Around
Grilling is a great way to cook delicious meals outdoors. But it can be tricky to get the temperature just right on your charcoal grill. One of the best ways to control the heat in your charcoal grill is by moving coals around.
By adjusting how close or far apart you place your coals, you can easily set up two-zone fires to raise or lower the temperature quickly and efficiently.
To raise the temperature, move some of your coals closer together; this will help create more direct heat for faster cooking times.
To lower it, spread them out further apart so that they don't generate as much heat at once.
This will give you more control over how hot or cool your charcoal grill gets quickly and easily.
It is important to remember that when grilling with charcoal, airflow plays an important role in controlling temperatures as well.
If there isn't enough airflow coming into the firebox, then all of those unlit coals won't be able to burn as efficiently and won't reach their full potential in terms of generating heat for cooking food properly.
Therefore, it is essential to adjust any vents, including the intake vent and exhaust vent, accordingly so that air can flow freely through them while maintaining a consistent level of smoke production throughout grilling time.
Another helpful tip when moving unlit coals around is to use long-handled tongs or other tools designed specifically for working with hot coal beds safely without burning yourself accidentally.
And always keep an eye on what's happening inside your grill – if things start getting too hot (or not hot enough), then it might be time to adjust those coal positions again until everything looks good from both a visual and thermal perspective before adding any food onto the grate itself.
Moving the coals around in your charcoal grill is an effective way to adjust the temperature and ensure that everything cooks evenly.
By adding more charcoal, you can further control the heat of your grill and cook a delicious meal.
4. Add More Charcoal
Adding more charcoal to your grill is an easy way to quickly and easily adjust the temperature of your cooking surface.
If you need to raise the heat, add a few extra pieces of coal; if you need to lower it, remove some from the firebox.
It's important not to add too much at once, as this can cause flare-ups and uneven temperatures throughout your food.
When adding additional charcoal, be sure it has been lit before placing it in the firebox or on top of existing coals.
This will help ensure that all pieces are burning evenly and provide consistent heat across your entire cooking surface.
You may also want to consider using a charcoal chimney starter when lighting new charcoal to control how much oxygen is being added during ignition.
It's also important to remember that different types of coal burn at different rates and temperatures. Make sure you know what fuel source you are using before adjusting your grill's temperature with additional coals.
For example, lump charcoal burns hotter than briquettes but doesn't last as long – meaning less time for indirect grilling or smoking techniques where low and slow heat is desired over high-intensity searing temps.
Adding more charcoal to your grill can help you regulate the temperature of your grill.
However, if you need more control over the heat distribution, using heat deflectors is a great way to achieve this.
5. Use Heat Deflectors
Heat deflectors are an essential tool for any griller. They help regulate the heat distribution in a charcoal grill, allowing you to cook food evenly and consistently.
Heat deflectors sit between your food and coals, reducing direct heat from reaching certain areas of the food while allowing indirect heat to reach other parts.
This helps ensure that all parts of what's being cooked on the grill receive even cooking temperatures throughout.
Using a heat deflector is easy: simply place it over your coals before adding your food onto the grate above it.
The metal plate will absorb some of the direct heat from the coals, preventing hot spots or flare-ups from occurring as you cook.
It also allows indirect heat to pass through so that all sides of your cooking get heated evenly and thoroughly without burning or drying out one side more than another.
Heat deflectors come in various shapes and sizes depending on the type of grill you have; however, most models are made with stainless steel or aluminum material for durability and long-term use.
Some may also feature adjustable intake dampers and exhaust dampers along their edges which can be used to control airflow within your charcoal grill if needed during cooking sessions
This can be especially helpful when trying to maintain low-temperature settings such as those required for smoking meats like brisket or ribs.
It is important to note that using a heat deflector does not eliminate direct contact between your food and fire; some exposure is inevitable since smoke needs access into the chamber where it can circulate whatever is being cooked inside (this adds flavor).
However, by placing a metal plate between them both, you can reduce this amount significantly while still maintaining consistent temperatures throughout each piece of meat or vegetable item on your grate.
FAQs in Relation to How to Control the Temperature of a Charcoal Grill (5 Easy Methods)
How long does it take for charcoal to reach cooking temperature?
On average, it takes about 15 minutes for the charcoal to reach cooking temperature. However, this may vary depending on environmental conditions such as ambient temperature, wind, and humidity.
What should I do if my fire gets too hot?
If your fire gets too hot, you should reduce the oxygen supply by closing some of the vents or moving the briquettes further away from each other so that they have less air circulating around them. You can also take out some of the burning briquettes and add new ones later when needed.
How do I know if my fire is at a good temperature?
You should use two thermometers near and in the food to get an accurate reading of the external and internal temperature. If you don't have a thermometer, a good indication that your fire is at optimal temperature is if you can hold your hand about five inches away from it for several seconds without feeling discomfort. 
How often do I need to adjust my charcoal grill's temperature?
You will need to regularly adjust your charcoal grill's temperature depending on what you are cooking and how quickly it needs to cook – often every 5-10 minutes during the cooking time – to keep it at an optimal level for your food preparation needs.
Conclusion
Controlling the temperature of a charcoal grill can be tricky, but with these five easy methods, you can easily achieve your desired results.
From using a grill thermometer to adjusting airflow and moving coals around to adding more charcoal or using heat deflectors, you now have all the tools necessary to control the temperature of your charcoal grill like an expert!
Remember that practice makes perfect, and don't forget to enjoy the process while mastering how to control the temperature of a charcoal grill (5 easy methods).
Are you having trouble controlling the temperature of your charcoal grill? Don't worry, we have 5 easy methods to help you get it just right.
From adjusting vents and adding more coals to using thermometers and indirect heat techniques, our BBQGrillGuides will give you all the tips and tricks needed for perfect grilling every time!
Visit us today to start learning how to control your charcoal grill's temperature like a pro!