Brisket is a cut of meat from the lower chest of beef cattle.
It is one of the nine beef primal cuts, though the precise definition of the cut differs internationally. The brisket muscles include the superficial and deep pectorals. As cattle do not have collar bones, these muscles support about 60% of the body weight of standing/moving cattle.
In this article, we will discuss how to trim a brisket.
Trimming a brisket involves removing all visible fat and membrane from the surface of the meat, leaving only lean meat exposed.
You should be able to trim away up to 1/3-1/2 of the whole brisket weight before cooking it in order for it to be considered lean meat rather than fatty meat after cooking.
Why Should You Trim a Brisket?
Trimming a brisket is a crucial step in the cooking process, as it allows you to get rid of any excess fat or connective tissue. This can be particularly important if you're cooking a large brisket and need to make sure that it cooks evenly throughout.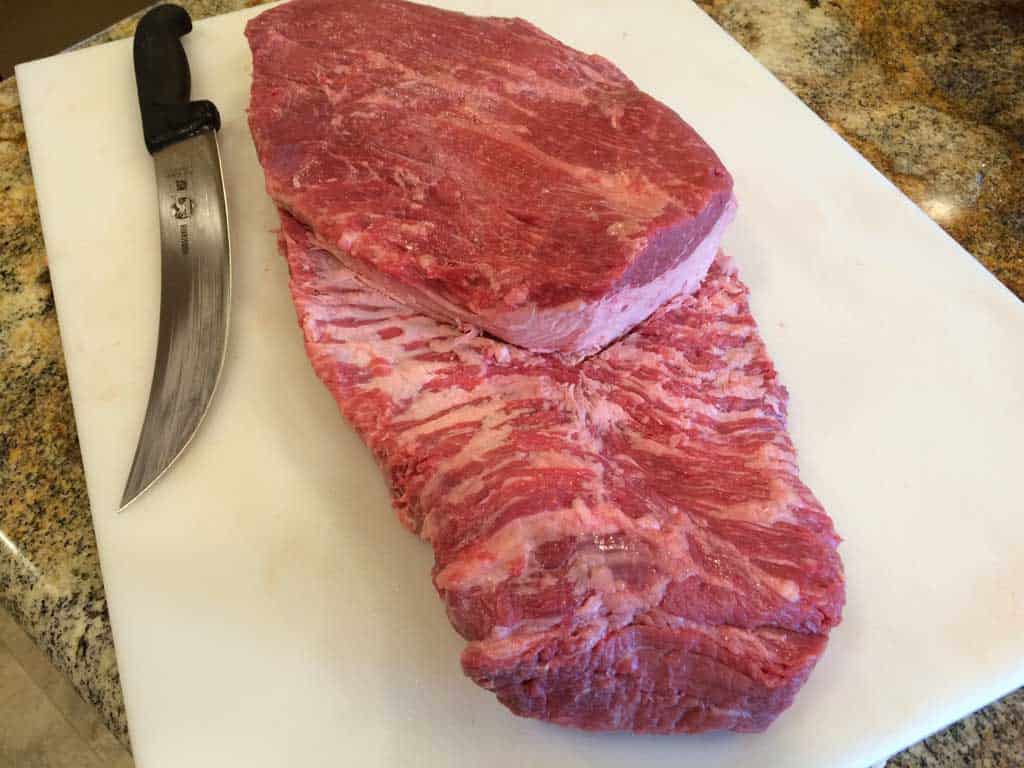 While trimming isn't necessary for smaller cuts of meat, it's always helpful when cooking larger pieces of meat like brisket. Briskets are often sold in large quantities, and they can be difficult to cook evenly without removing the extra fat and connective tissue.
When trimming the brisket before cooking, you'll want to remove any excess fat or connective tissue around the edges of your cut. This will help ensure that your meat cooks evenly throughout while also preventing it from drying out during the cooking time.
Supplies Needed Before Trim A Brisket
1. Knife
You'll need a sharp, sturdy knife to trim your brisket. You can use any kind of knife you want, but it should be sharp enough to cut through the brisket without tearing it. The best knives for trimming brisket are chef's knives and boning knives.
2. Cutting Board
You'll also need a cutting board to put your brisket on while you're trimming it. A wooden cutting board is best because it won't be as slippery as other types of plastic or metal boards, which could cause your knife to slide around while you're trying to make cuts on the meat.
How to Trim a Brisket
1. Prepare the brisket
First and foremost, you want to make sure that you have a good, fresh brisket. You can tell it's fresh if it has a pinkish-tan color, not red or brown. It should also be firm to the touch, not squishy or limp. If you're at all unsure about your meat selection, ask someone who knows more about meat than you do!
2. Trim the fat
Once you've got your brisket ready, trim off any excess fat that's visible on the top and bottom of the meat. This will help keep your meat from becoming too greasy while cooking and give it a more uniform appearance when it's done cooking-and it will also help prevent flare-ups in your oven since less fat means less grease for fire starters!
3. Cut Out the Deckle
The deckle is the triangular piece of meat that sits next to the point. To remove it, cut along the line of fat that separates it from the point.
4. Remove the Point
Cut across the entire length of your brisket, separating it into two sections: one with most of its fat covering and one with almost no fat at all. You should be left with two pieces of meat that resemble a small roast in shape and size, but they'll be much thinner than they were when you started this process.
5. Trim the Flap
Look at your brisket from above; you'll see a section that's slightly thicker than all other parts of your cut of meat. This is called "the flap", and it's very easy to trim away without sacrificing too much meat or leaving any jagged edges behind.
Conclusion
With a little practice, you can develop your own method for trimming brisket or beef short ribs. The most important thing is to trim within ½" of the meat's surface. If there are pieces that are attached to the muscle and too hard to cut through easily, feel free to leave them on. The end result won't be too different; you'll simply have a bit more fat on your final product.