Brisket is a full-flavored, slightly tough cut of meat that requires long, slow cooking to be tender. It comes from the breast or lower chest of a cow and shares its name with a procedure in which the brisket is separated from other portions of beef.
History of Brisket
Where did Brisket Originate?
Brisket is a cut of meat from the breast or lower chest of beef cattle. It is lean, tough, and flavorful and is usually cooked slowly to make it tender. Briskets can be cooked in many ways including boiling, braising, roasting, and grilling.
The word "brisket" comes from an Old French word "brasquet" which means "a slice". The word "brasquet" came from the Latin word "bracchium" which means "arm". This may be because when this part of the cow is cut up there are two large bones that resemble arms.
Brisket originated around the late 18th century in England before making its way over to North America where it became popular during the Civil War era because it was cheap and could keep well without spoiling during long journeys on foot or by horseback.
How has the Use of Brisket Changed Over Time?
Brisket is one of the most popular and versatile cuts of meat, and it has been used in a wide variety of ways over time.
The first use of brisket came in the 19th century when Americans began using it as a main ingredient in corned beef. Brisket was also used to make pot roast, which became popular in the United States during this period.
In the 20th century, Americans began using brisket more as a standalone cut. It was often smoked or roasted and served at dinner parties or family gatherings.
Benefits of Eating Brisket
The benefits of eating brisket include:
It's delicious! Brisket has a very rich flavor that some people may not like, but most people find to be delicious.
It's good for you! Brisket contains a lot of protein and iron, which helps your body produce red blood cells and carry oxygen throughout your body. This makes it an excellent choice for those who are trying to maintain their health or who are recovering from an illness.
Nutrition Facts of Brisket
The nutritional value of brisket is high but not as high as other beef cuts like ribeye or strip steak. A 3-ounce serving of cooked beef brisket has only 184 calories, which is less than what you'd find in a small hamburger or sausage and eggs.
| | |
| --- | --- |
| Amount Per 100 grams | |
| Calories 155 | |
| | % Daily Value* |
| Total Fat 7g | 10% |
| Saturated fat 2,6 g | 13% |
| Cholesterol 62 mg | 20% |
| Sodium 79 mg | 3% |
| Potassium 330 mg | 9% |
| Total Carbohydrate 0 g | 0% |
| Dietary fiber 0 g | 0% |
| Sugar 0 g | |
| Protein 21 g | 42% |
| Vitamin C: 0% | Calcium: 0% |
| Iron: 10% | Vitamin D: 0% |
| Vitamin B6: 20% | Cobalamin: 40% |
| Magnesium: 5% | |
Percent Daily Values are based on a 2,000-calorie diet. Your daily values may be higher or lower depending on your calorie needs.
Types of Brisket
Brisket is a cut of meat from the lower breast or upper chest of beef and is one of the most popular cuts in the United States. There are two types of brisket: point and flat.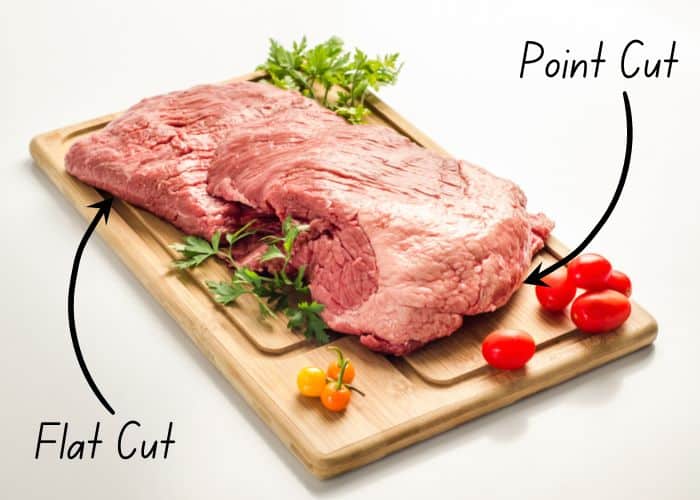 Point Brisket
This is a leaner cut of beef that comes from the area between the fifth and eleventh ribs. It's also known as "first-cut" or "first-cut" brisket. This cut has more fat than flat brisket, but it's still a relatively lean piece of meat with a high amount of connective tissue. Because it contains less fat than other cuts, point brisket needs to be slow-cooked at low temperatures in order to properly break down the connective tissue and make it tender enough to eat.
Flat Brisket
Flat brisket is also known as "second cut" or "second-cut" brisket. It comes from further down on the cow's body, from between the twelfth rib down to its muscular chest muscle, so it's usually tougher than point brisket. Flat briskets are more marbled with fat than point briskets, which makes them ideal for slow cooking methods like smoking or barbecuing where long periods at low temperatures are required to break down the fat and connective tissue.
Tips for Cooking Brisket
Briskets can be prepared in several ways:
Grilled – Brisket is often grilled, as it's a flavorful cut that benefits from high heat. When grilling brisket, allow enough time for the meat to rest before slicing—this allows the juices to redistribute throughout the meat and makes for more tender slices.
Boiled – Boiling is another method of cooking brisket, which produces tender and juicy results when done correctly. This cooking method takes longer than grilling or roasting, but it yields excellent results if you have the time to devote to slow cooking your meat.
Roasted – Roasting is another popular method of preparing brisket; it's easy to do and produces delicious results! However, if you're preparing brisket at home, you'll need either a grill or an oven that can reach high temperatures (around 400 degrees Fahrenheit).
Conclusion
All in all, we think that brisket is a great meat to cook and enjoy. It's high in nutrients and can be prepared, sometimes with little preparation, for a hearty meal enjoyed by many. Whatever you plan to do with it, enjoy!