Are you new to smoking meat and looking for the best meats to start with?
Smoking is a great way to add flavor, texture, and tenderness to your favorite cuts of meat.
With so many options out there, it can be hard to know which ones are right for you as a beginner smoker.
We've compiled 9 of the best meats to give any novice an amazing smoky taste experience – Beef Brisket, Beef Ribs, Pulled Pork, Pork Ribs, Pork Shoulder, Smoked Hamburgers, Chicken Breast Lamb Shoulder, and Smoked Salmon.
So if you're ready to dive into the wonderful world of smoked meat, read below!
What is Smoking Meat?
Smoking meat is a method of cooking that uses smoke to flavor and cook the food. It's been around for centuries but has recently become popular again due to its unique flavors and textures.
Smoking involves using indirect heat from burning wood or charcoal, producing smoke that infuses the food as it cooks. This results in an incredibly flavorful dish with tender, juicy meat.
The type of wood used can vary depending on the desired flavor profile; hickory, mesquite, applewood, and cherry are all common choices for smoking meats.
Different woods produce different flavors; hickory is often described as having a strong smoky taste, while mesquite tends to be more subtle.
The temperature at which you smoke your meat also affects how it tastes; lower temperatures will produce a milder flavor, while higher temperatures will create bolder notes.
1. Beef Brisket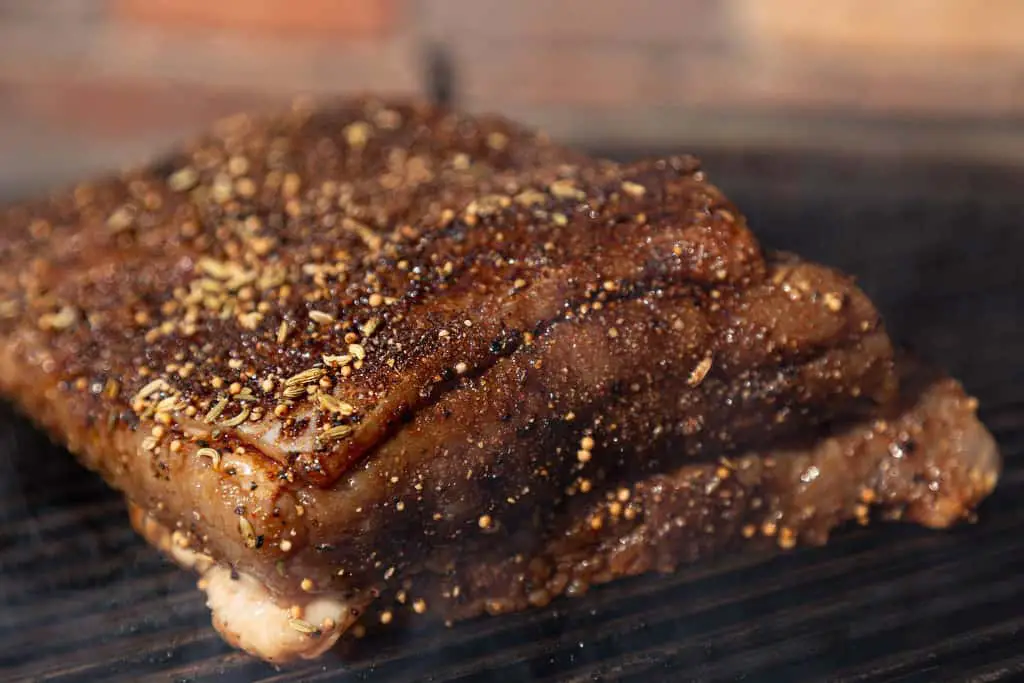 Smoking beef brisket is a popular way to enjoy this cut of meat. The key to success with smoking beef brisket is low and slow cooking process and using the right dry rub or marinade.
A dry rub or marinade can help add flavor and keep the meat moist while it smokes.
For best results, choose a combination of herbs and spices that will complement the smokey flavor of the beef brisket.
Common ingredients for a dry rub include garlic powder, onion powder, paprika, cumin, oregano, thyme, black pepper, and sea salt.
When making a marinade for your beef brisket, use an acidic ingredient such as vinegar or citrus juice and oil and seasonings like garlic powder and chili flakes.
Smoked beef brisket is a delicious and flavorful beef cut that can be cooked perfectly with the right techniques.
With its succulent texture, it's no wonder why beef ribs are also an ideal choice for smoking.
2. Beef Ribs
Smoking beef ribs is a great way to add flavor and tenderness to the cut of meat.
The fat content in the ribs helps keep them juicy while they cook so that you can enjoy succulent, flavorful results every time.
When smoking beef ribs, it's important to start with high-quality cuts with plenty of marbling.
This will ensure your result is as flavorful as possible. You can then choose whether you want to apply a dry rub or marinade before cooking – both options will help bring out even more delicious flavor in the finished product.
Once you've chosen your seasoning method, it's time to get started on the actual smoking process.
Smoking beef ribs should be done low and slow for best results – aim for an internal temperature of at least 145°F when checking doneness with a thermometer probe.
It usually takes around four hours for this type of rib cut to reach its optimal level of tenderness when cooked at 225°F-250°F on a smoker or grill set up for indirect heat cooking methods (i.e., not directly over flames).
Beef ribs are incredibly versatile and pair well with all sorts of side dishes like coleslaw, potato salad, baked beans, or macaroni & cheese – making them perfect for family gatherings or special occasions alike.
If you're looking for something different than traditional BBQ sauce flavors, try experimenting with different spice blends such as chili powder and garlic powder. These seasonings work especially well on smoked beef ribs.
Beef ribs are a great cut of meat to start smoking, as they have plenty of flavors, and the fat renders down nicely.
Plus, they're easy to pull apart once cooked. Now let's look at another classic BBQ favorite – pulled pork.
3. Pulled Pork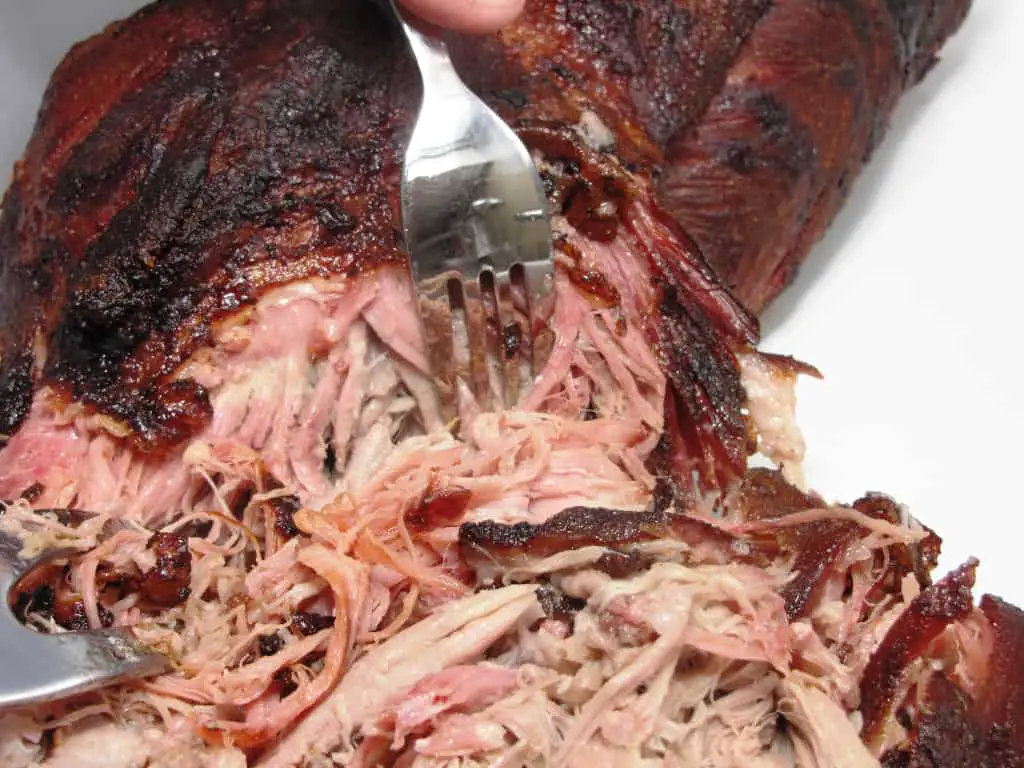 Pulled pork is a classic BBQ dish that has been enjoyed for generations. It's made by slow-cooking the meat until it's tender and then shredding it with two forks.
The key to making pulled pork is to use a dry rub or marinade to add flavor, as this will help keep the moisture in while cooking.
When selecting your cut of pork, you'll want something with good fat content and plenty of connective tissue so that it doesn't dry out during the long cook time.
Pork shoulder (also known as Boston butt) is usually the best pulled pork because it contains enough fat and collagen to stay moist throughout the smoking process.
Once you've selected your cut of meat, you'll need to apply a dry rub or marinade before placing it on the charcoal or pellet smoker.
This will give your pulled pork extra flavor and also help keep some of its natural juices locked in during cooking.
A simple combination of salt, pepper, garlic powder, paprika, onion powder, and brown sugar makes an excellent base for any smoked meat recipe.
You can also experiment with other spices like cumin or chili powder if desired.
When smoking pulled pork, low temperatures are essential; aim for around 225°F – 250°F over indirect heat from charcoal or wood chips/chunks placed away from direct flame contact on one side only (this helps prevent flare-ups).
Cook times vary depending on size but generally range between 8-12 hours at these lower temps.
Be sure to check the internal temperature regularly using an instant-read thermometer until it reaches 195°F before removing it from the heat source and letting it rest for 10 minutes before serving and shredding it with two forks into smaller pieces ready for sandwiches or tacos etc.
Finally, remember, when working with any smoked meats, always prioritize safety first.
Wear gloves when handling raw food items and ensure all surfaces have been properly sanitized before preparing food items.
Pulled pork is a great way to start smoking meat for beginners, as it's easy to prepare and cook.
It's also incredibly versatile, so you can enjoy it in sandwiches, tacos, salads, and more.
4. Pork Ribs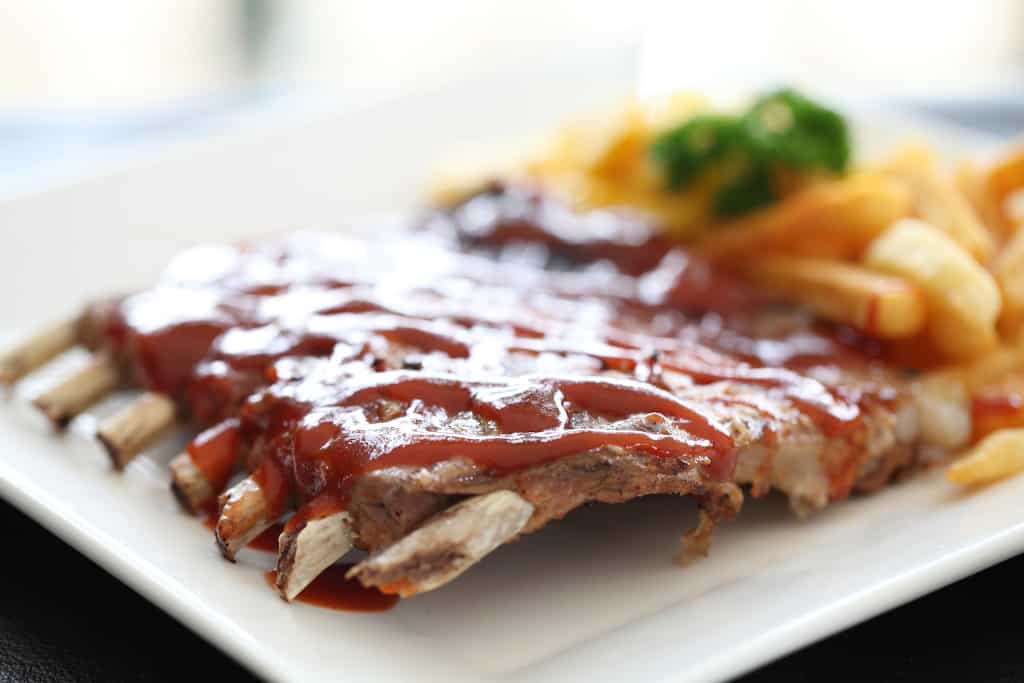 Pork ribs are a delicious and popular option for smoking. The fat content of pork helps to keep the meat juicy and flavorful while cooking, making it an ideal choice for barbecuing or grilling.
When preparing pork ribs, it's important to use a dry rub or marinade to add flavor before cooking them until they reach an internal temperature of at least 145°F.
For those looking for something different than the traditional barbecue flavors, plenty of options are available for seasoning your pork ribs.
A classic dry rub can be made with paprika, garlic powder, onion powder, cumin, oregano, and black pepper – all ingredients that will help bring out the meat's natural flavor without overpowering it.
If you prefer a sweeter taste, try adding some brown sugar or honey to your mix.
When smoking pork ribs on a grill or smoker, make sure you have enough charcoal or wood chips to maintain consistent heat throughout the entire cook time which is usually between 4-6 hours, depending on how large your cut is and what type of smoker you're using (charcoal vs. gas).
You'll also want to check periodically that your thermometer reads at least 145°F so that any bacteria present in the meat has been killed off during cooking.
Once cooked through properly, let them rest for 10 minutes before serving up with some sides like coleslaw or potato salad – both perfect accompaniments for this smoky dish.
With these tips in mind, you'll be able to enjoy perfectly smoked pork ribs every time.
5. Pork Shoulder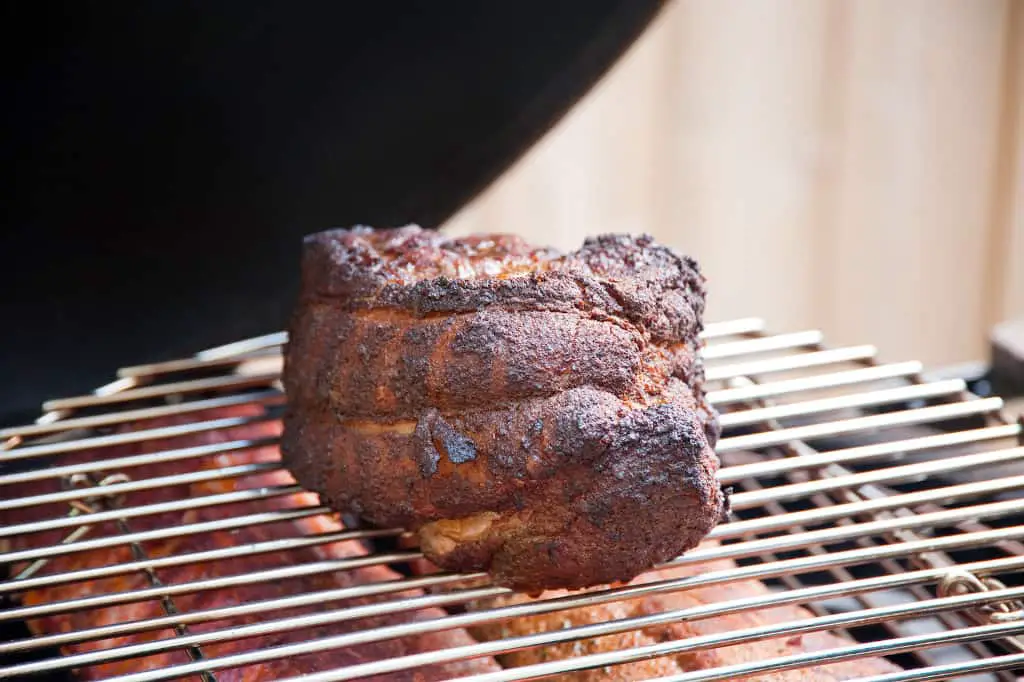 Pork shoulder is a popular cut of meat for smoking, as it has plenty of fat that helps keep it juicy and flavorful while cooking. It's best to use a dry rub or marinade to add flavor before smoking the pork shoulder.
When smoking pork shoulder, the most important thing is to ensure you cook it until it reaches an internal temperature of at least 195°F before serving.
This will ensure that the pork is cooked through and safe to eat.
When preparing your pork shoulder for smoking, be sure to trim off any excess fat from the outside of the meat so that there isn't too much smoke buildup during cooking.
You can also score the fat on top with a sharp knife if desired, which will help create more surface area for your rub or marinade to penetrate the meat.
Once you have prepped your pork shoulder, place it in your smoker and cook according to the manufacturer's instructions until an internal temperature of 195°F is reached.
Smoking times vary depending on the size and type of smoker used, but generally speaking, you should plan on around 4-6 hours per pound at 225°F-250°F (107°C-121°C).
When done properly, smoked pork shoulders are incredibly tender and fully flavored with just enough smokiness without being overpowering.
They are great served as sandwiches or tacos topped with slaw or salsa verde, shredded over nachos, or even sliced thinly onto salads.
6. Smoked Hamburgers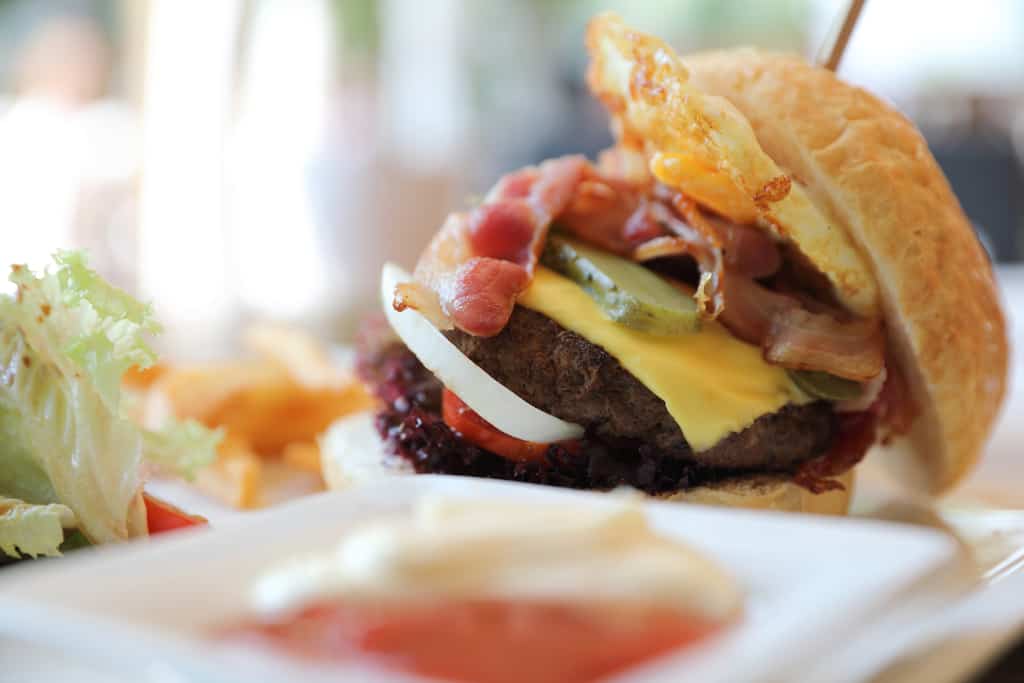 Smoked hamburgers are a delicious way to enjoy barbecue flavors without cooking an entire meal.
They're easy to make and can be cooked on any grill or smoker. The key is to use high-quality beef that has been ground fresh for the best flavor and texture.
When selecting your beef, look for one with at least 20% fat content to stay juicy when cooked over low heat for a long time.
You can also mix in some bacon fat or other types of fats if you want even more flavor and juiciness. Once you have your meat selected, it's time to season it up.
For smoked burgers, you want something with bold flavors like garlic powder, onion powder, chili powder, cumin, and paprika.
These spices will help give the burgers a nice smoky flavor while still allowing them to remain juicy after cooking them slowly over indirect heat on your smoker or grill.
If desired, you can add Worcestershire sauce or steak sauce as well as salt and pepper before forming into patties.
Once all the ingredients are mixed together thoroughly, form four equal-sized patties about ¾ inch thick each (or thicker if desired).
Place onto a preheated grill set up for indirect grilling over medium-low heat (about 250°F), making sure not to place them directly above flames or hot coals; this could cause flare-ups which would char the outside before cooking through completely, resulting in dry burgers.
Close the lid and let smoke until the internal temperature reaches 160°F (approximately 1 hour).
Serve immediately with favorite condiments such as cheese slices, lettuce, tomatoes, pickles, onions, etc.
7. Chicken Breast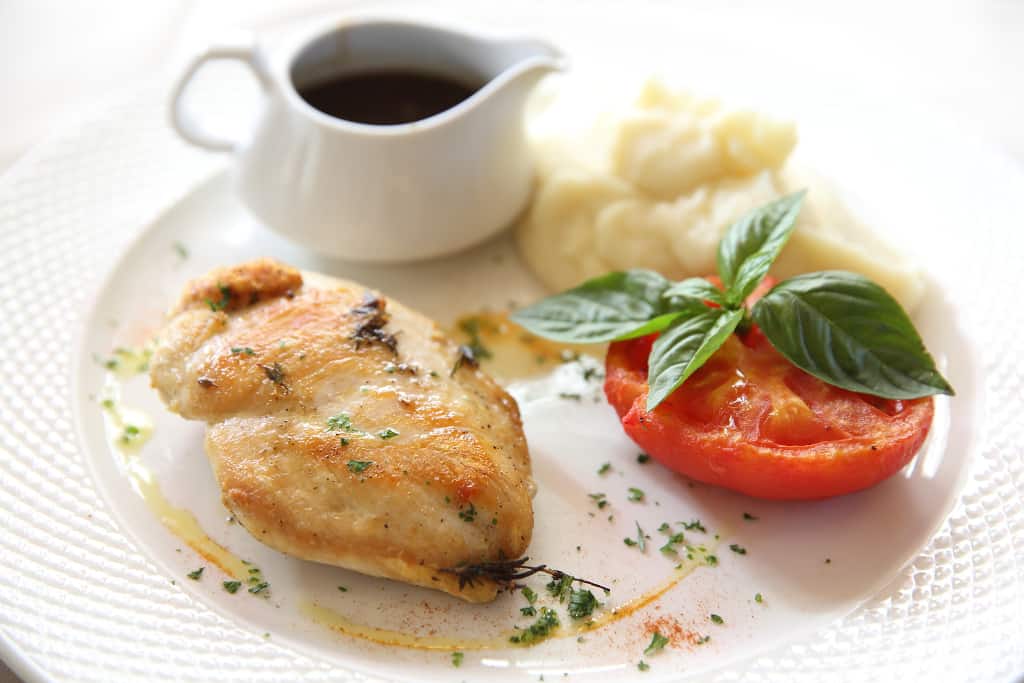 Smoking chicken breast is a great way to add flavor and texture to your meal. It's easy, and fast, and the results are delicious.
Smoking chicken breasts will give you juicy, tender meat that can be used in salads, sandwiches, or as entrée.
When it comes to smoking chicken breast, there are several methods available depending on the type of smoker you have.
If you're using a charcoal smoker, start by soaking wood chips for at least 30 minutes before adding them to the coals.
You can also use pre-soaked wood chunks if desired. Once your coals are ready, place your chicken breasts directly onto the grate over indirect heat (not directly over the fire).
Close the lid and smoke for about 2 hours until internal temperature reaches 165°F when tested with an instant-read thermometer inserted into the thickest part of the breast away from bone or gristle.
If using an electric smoker, set the temperature between 225°F – 250°F and follow the same instructions above but reduce the cooking time slightly due to higher temperatures inside electric smokers than charcoal smokers.
For gas smokers, adjust burners so that one side has a low flame while another side has a high flame, then place chicken breasts on opposite sides of the grill grate from the flames so they cook indirectly over a lower heat source instead of direct heat from the burner(s).
Cook for approximately 1 ½ – 2 hours until internal temperature reaches 165°F when tested with an instant-read thermometer inserted into the thickest part of the breast away from bone or gristle.
Once cooked through, let rest for 5-10 minutes before serving or slicing/shredding for sandwiches, etc.
8. Lamb Shoulder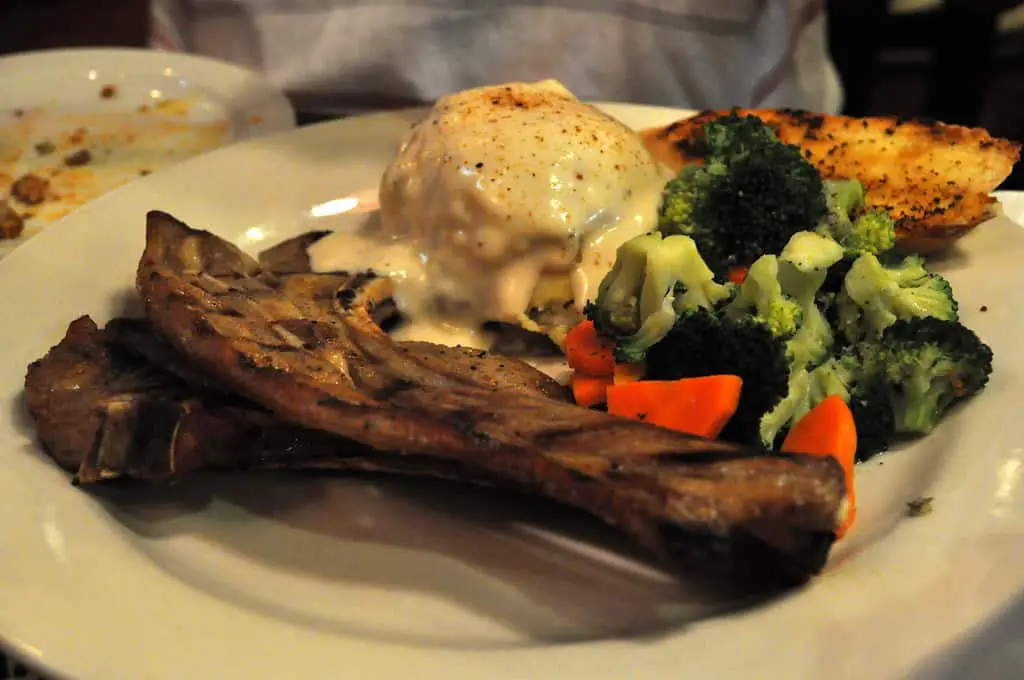 Lamb shoulder is a popular cut of meat for grilling and smoking.
It has a robust flavor that pairs well with bold spices, making it an ideal choice for BBQ.
Lamb shoulder can be cooked in many different ways, including roasting, braising, or slow-cooking.
When selecting lamb shoulder for grilling or smoking, look for cuts that are evenly marbled with fat and have plenty of connective tissue.
This will ensure the meat stays juicy and tender during cooking.
The size of the cut should also be considered when choosing your lamb shoulder; smaller pieces will cook faster than larger ones.
Season it generously with salt and pepper before adding other herbs and spices as desired when preparing to grill or smoke your lamb shoulder.
Once seasoned, place the lamb on a preheated grill over indirect heat until it reaches an internal temperature of 145°F (63°C).
If you're using a smoker instead of a grill, follow the manufacturer's instructions regarding temperature settings and wood chips selection to achieve optimal results.
Once cooked through to medium-rare doneness (145°F/63°C), remove from the heat source immediately to avoid overcooking the meat, which would result in dryness due to loss of moisture content from the prolonged cooking time at high temperatures.
Allow your smoked or grilled lamb shoulder to rest for 10 minutes before slicing it into thin strips against the grain before serving alongside sides such as roasted potatoes or vegetable medley.
9. Smoked Salmon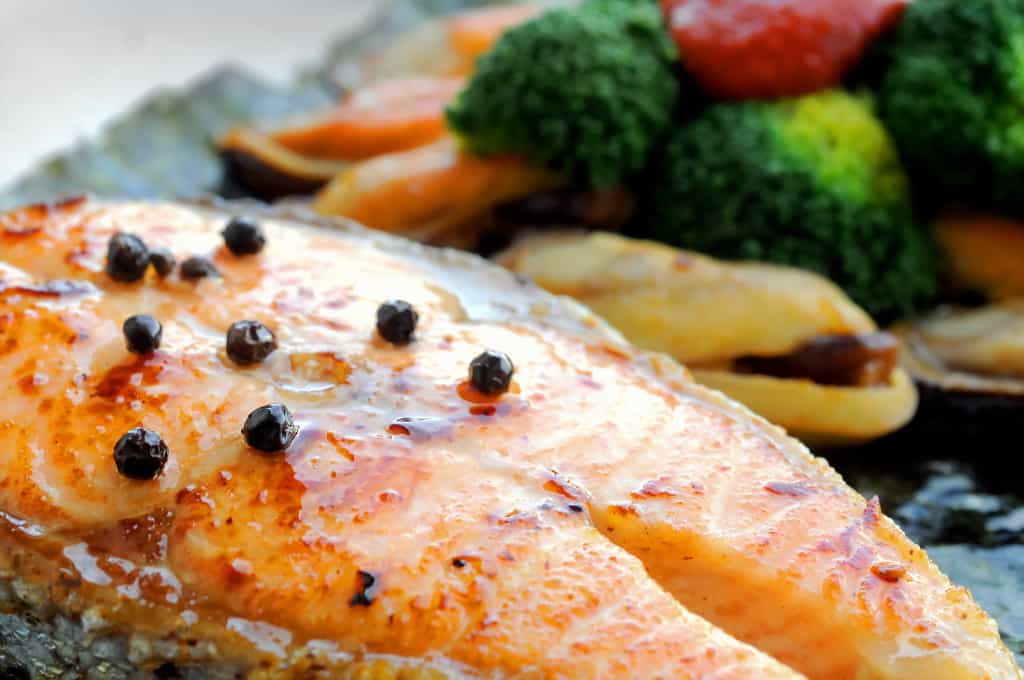 Smoked salmon is a popular dish that can be enjoyed in many different ways. It has a unique flavor and texture, making it an excellent addition to any meal.
Smoked salmon is typically made from wild-caught Pacific or Atlantic salmon, which are then cured with salt and smoked over wood chips for several hours.
The result is a flavorful fish with a slightly smoky taste and tender, flaky texture.
When shopping for smoked salmon, look for high-quality pieces that have been properly cured and smoked.
Avoid buying pre-packaged products, as these may contain added preservatives or artificial flavors.
You should also check the label to ensure the product was sustainably sourced from well-managed fisheries.
Smoked salmon can be served hot or cold in various dishes such as omelets, salads, sandwiches, pasta, pizzas, and more.
For those who prefer their fish cooked thoroughly, it can also be grilled or pan-seared until lightly browned on both sides before serving with your favorite accompaniments like capers or lemon wedges.
When preparing smoked salmon at home, you will need some basic equipment such as an oven thermometer (to monitor temperature), a smoker box (for adding smoke flavor), and wood chips (to add additional flavor).
Additionally, you will need curing salts like sea salt or pink Himalayan salt to cure the fish before smoking it to draw out moisture while preserving its natural oils for maximum flavor impact when finished cooking.
Once all of your ingredients are gathered, mix them according to the recipe instructions before placing them into the smoker box inside your oven set at 225°F – 250°F, depending on desired doneness level.
Cook times vary but generally range between 2 – 4 hours depending on the size of the prepared fillet, so always keep an eye on progress throughout the process using an oven thermometer if available.
Finally, remove it from the heat source and let it cool down slightly before slicing it thinly against the grain. Serve immediately alongside favorite side dishes and enjoy.
FAQs in Relation to 9 Best Meats to Smoke for Beginners
What meat takes the least amount of time to smoke?
Smoked brisket is one of the quickest meats to smoke. It typically takes between 4-6 hours, depending on the size and thickness of the cut. Brisket can be smoked at a low temperature (around 225°F) for a longer period of time or at higher temperatures (up to 300°F) for shorter periods. The key is maintaining an even temperature throughout the smoking process and monitoring it closely with a thermometer. When done correctly, smoked brisket will have a deep smoky flavor that pairs perfectly with BBQ sauce or other condiments.
What is the best-tasting meat to smoke?
Smoked meats are a favorite among BBQ and grilling enthusiasts, but the best-tasting meat to smoke depends on personal preference. Brisket is often considered one of the most flavorful smoked meats due to its rich marbling and juicy texture when cooked low and slow. Ribs are also popular for their sweet, smoky flavor that comes from hours of cooking over indirect heat. Chicken can be infused with an intense smoky flavor if it's brined before smoking, while pork shoulder yields incredibly tender results when cooked correctly. No matter what type of meat you choose to smoke, there's no denying that smoked meats have a unique flavor that can't be replicated any other way.
What are the most popular meats to smoke?
The most popular meats to smoke are pork, beef, chicken, and fish. Pork is a great choice for smoking as it has a lot of fat that helps keep the meat moist while cooking. Beef is also a great option for smoking because it takes on the smoky flavor well and can be cooked in different ways depending on your preference. Chicken is another excellent choice for smoking due to its versatility; you can choose from whole chickens or parts such as breasts, wings, or thighs. Lastly, fish like salmon and trout are ideal for smoking since they have an oily texture which helps them retain moisture during the cooking process.
What are the healthiest meats to smoke?
Smoked meats can be a healthy part of your diet, but it's important to choose lean cuts and avoid processed meats. Lean cuts such as chicken breasts, turkey breast, pork tenderloin, and sirloin steak are all good choices for smoking. Fish is also an excellent choice; salmon, trout, and mackerel are especially rich in omega-3 fatty acids. When selecting smoked meats, look for those that have been minimally processed with no added fat or sodium. Avoid any products that contain nitrates or nitrites, as these can be carcinogenic when heated at high temperatures during the smoking process.
Conclusion
In conclusion, smoking meat is a great way to add rich flavor and tenderness to your favorite cuts of meat.
With the right equipment and knowledge, you can smoke 9 of the best types of meat for beginners: beef brisket, beef ribs, pulled pork, pork ribs, pork shoulder, smoked hamburgers, chicken breast, lamb shoulder, and smoked salmon.
All these meats are easy to prepare with minimal effort yet yield delicious results that will impress even the most experienced grill masters.
So if you're looking for an exciting new way to cook up some tasty BBQ treats, give smoking a try! You won't regret it!
Look no further than our website if you're a BBQ beginner and want to get the most out of your grill! We provide detailed guides on all aspects of grilling, including the best meats for smoking.
With our expert tips and tricks, we can help you make delicious meals that will have everyone coming back for more. Don't wait any longer – start mastering the art of BBQ today with us at BBQGrillGuides!