The portable butane stove is cooking equipment that can prepare you hot beverages and meals throughout the entire adventure. Not only that, but it also may be used as an emergency backup for your home or workplace in the case of power outages. To assist you to choose which one would be ideal for your needs, we've put up a list of the best portable butane stoves on the market!
Advantages of Using Butane Stove
There are many benefits to using a butane stove while camping or backpacking. Some of the advantages include:
Butane stoves are very lightweight and portable, making them easy to take with you on your travels.
They are easy to set up and use, and most models have an adjustable flame that allows you to customize the heat level.
Butane stoves are also relatively affordable, which makes them a budget-friendly option for outdoor cooking.
And perhaps best of all, butane stoves produce very little smoke, so you won't have to deal with any pesky fumes while cooking.
So if you're looking for a reliable and affordable way to light up your next campfire, a butane stove is the right choice for you.
List of 10 Best Portable Butane Stoves
#1 Iwatani 35FW Butane Stove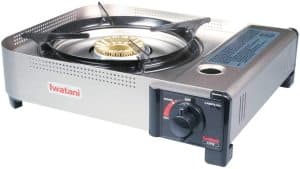 The Iwatani 35FW Butane Stove is one of the most advanced and powerful cooking items available. Its Heat Panel system produces a relentless heat that cooks food quickly and efficiently, without sacrificing quality. The double windbreaker provides increased protection against wind gusts, allowing you to cook food quickly and easily.
In addition, this butane stove retains flavor's better than other stoves, making it the perfect option for discerning chefs. It also includes an automatic safety stop that protects you from dangerous pressure increases in the fuel canister.
It is the perfect choice for campers and outdoor enthusiasts who need a lightweight, durable stove that offers quick and even heat distribution.
This advanced stove features a heat panel system that ensures food cooks quickly and evenly, while the Piezo igniter ensures easy start-up.
The lightweight design makes it easy to pack along on your next adventure, and the built-in safety features provide peace of mind.
#2 Martin Outdoor Heavy Duty Portable Butane Stove Burner CSA 8000 BTU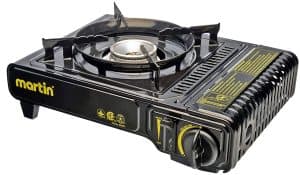 The Martin Outdoor Heavy Duty Portable Butane Stove is perfect for your next outdoor excursion. This tough, durable stove can withstand a lot of wear and tear, and it's small and compact enough to fit easily in your bag. It has a low maximum BTU of 8,000, making it more fuel-efficient than some other stoves on the market.
The stove has a heat dial so you can control the temperature, as well as a built-in windshield and cartridge ejection mechanism to keep things safe. Plus, it comes with a heavy-duty carrying case for easy transport.
It's small and compact, but with a powerful burner that can handle even the most demanding cooking tasks. The stove also features good safety features, including an automatic shut-off valve that stops the flow of gas if the flame goes out. And it's built tough to last, with a durable carrying case that will keep it safe on your travels. So if you're looking for a reliable and portable stove, the Martin Outdoor Heavy Duty Portable Butane Stove is definitely worth considering.
#3 GasOne GS-8300 – Camp Stove Compact Butane Stove with Carrying Case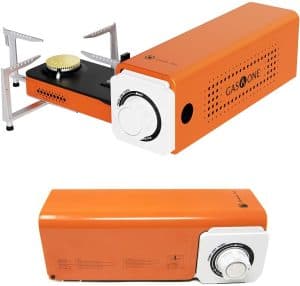 The GasOne GS-8300 is a highly compact and easy-to-use camp stove. It has an adjustable burner, electric ignition, and an automatic pressure detector which shuts off the stove if unusual pressure is detected – making it a safe choice for your next camping trip.
This stove is made with portability in mind; it has a unique folding design that keeps it protected when not in use, and it's lightweight so you can easily transport it wherever you go. Plus, it works with cast iron pots, saucepans and kettles so you can cook up a hearty meal while enjoying the great outdoors.
This GasOne Camp Stove is perfect for one person – it's small and compact, and has great safety features. Plus, it folds down to a very small size, making it easy to take with you on your camping trips. Just be aware that it's not the most fuel-efficient stove out there – so make sure to bring plenty of butane canisters with you!
#4 Gas ONE GS-1000 7,650 BTU Portable Butane Gas Stove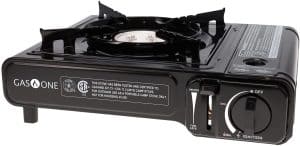 Looking for a safe and reliable portable butane gas stove? Look no further than the Gas ONE GS-1000. This top-selling stove comes with automatic shut-off and a locking lever to keep things secure. Plus, it's compatible with most butane canisters out there. So whether you're camping, cooking on a road trip, or in an emergency situation, the GS-1000 is perfect for you.
This stove is easy to operate and features an automatic electronic ignition system, so you can light the burner without any fuss. Plus, it produces up to 7,650 BTUs of heat output, which is more than enough to cook a hearty meal.
This sturdy little stove is both compact and lightweight, making it easy to transport. It also features non-slip rubber legs and a hard plastic carrying case for added convenience.
With four pot arms and an enamel-coated steel drip pan, the GS-1000 can accommodate pots and pans of all sizes. And thanks to its high-power 7,650 BTU output, this little stove can handle even the most demanding cooking tasks. So don't go camping without your GS-1000 Portable Butane Gas Stove!
#5 Chef-Master 90235 Butane Countertop Range / Stove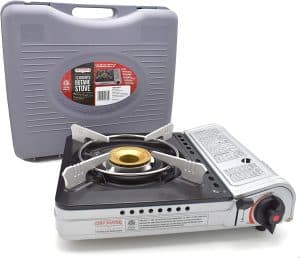 The Chef-Master 90235 Butane Countertop Range / Stove is the perfect appliance for on-the-go cooking. With a variety of heat settings, this stove is perfect for everything from simmering sauces to searing steaks. The electric ignition makes it easy to get started, and the wind guard ensures that your food stays in control. With a sleek, compact design, this stove is easy to store away when not in use.
This stove is fuel-efficient, which means you won't burn through gas canisters too quickly. Plus, it comes with lots of safety features to keep you safe while you cook. The only downside is that it doesn't come with standing legs, so you'll need to find something else to prop it up on.
#6 Coleman Portable Butane Stove with Carrying Case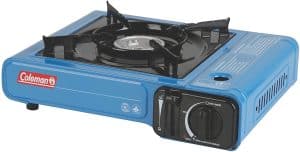 The Coleman Portable Butane Stove is the perfect companion for any outdoor enthusiast. This sturdy stove is built with durable steel grates that make it easy to clean and maintain, even after a long camping trip. It generates up to 7,650 BTUs of heat and can run for up to 1.25 hours on a single 8.8 oz butane gas cylinder. So whether you're cooking a hearty meal or want a hot cup of coffee, this stove has you covered.
The Coleman Portable Butane Stove is perfect for outdoor enthusiast or traveler who wants to be able to cook their own food on the go. This lightweight stove weighs only 4.68 pounds and comes with a carrying case for easy transport. With adjustable heat and 7,650 total BTUs, this stove can accommodate up to a 10-inch pan. However, some reviewers have noted that the parts fit together poorly and that the stove is cheaply made.
#7 Camp Chef Mountain Series Butane 1 Burner Stove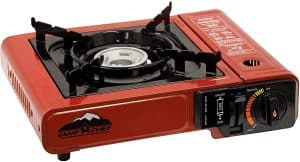 Cooking while camping can be a challenge, but with the Camp Chef Butane Single Burner Stove, you'll have everything you need to whip up your favorite meals. This light and portable stove is easy to take with you on any outdoor adventure, and it heats up quickly so you can get cooking. Plus, the adjustable heat control ensures that each meal cooks perfectly.
This lightweight and compact stove offer 8,000 BTUs of heat to help you cook up a delicious meal while on the go. The adjustable heat-control dial ensures that you can customize the cooking experience to fit your needs, while the included storage case makes it easy to take this stove with you wherever you go.
#8 Camplux Dual Fuel Camping Stove, Portable Butane Stove 7200 BTU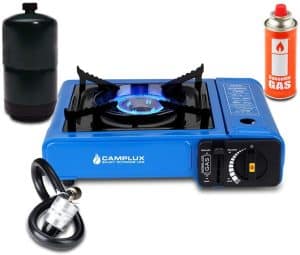 The Camplux Dual Fuel Camping Stove is the perfect accessory for any camping trip. This stove has a dual-fuel design that allows it to run on both butane and propane, making it versatile and easy to use. The adjustable heat settings mean that you can create any camp cooking experience you desire, from coffee or tea to bacon and eggs. With this stove, you'll be able to have breakfast waiting for you when you wake up in the morning, and lunch ready by the time you're hungry.
It has a Piezoelectric ignition system, as well as auto-shutoff mechanisms for safety, which makes it a perfect choice for anyone who wants to enjoy their time outdoors without having to worry about their cooking. This stove also has a powerful 7,200 BTU/HR heat output, making it compatible with many types of food and cookware. Best of all, it comes with CSA APPROVED safety assurance and gas leakage protection device.
#9 GasOne Emergency Gear Camping Mini Butane Portable Gas Stove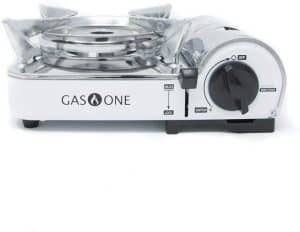 Looking for a great portable stove to take with you on your camping or hiking trips? Look no further than the GasOne Emergency Gear Butane Portable Gas Stove! This little beauty is small and lightweight, making it easy to transport, and fits easily into any space. It's also made from sturdy stainless steel, so you can rely on it to last through even the most strenuous of adventures. Plus, it comes with a handy carrying case for easy storage and transportation.
Its tiny size makes it easy to store and transport, while its HIGH OUTPUT of 7,650 BTU ensures that you'll have all the power you need to cook your favorite meals. Plus, with a Piezo-Electric Starter, this stove is easy to ignite – even in windy conditions. And thanks to its steel body, it's easy to clean after every use.
#10 GAS ONE GS-2000 Dual Fuel Double Portable Propane or Butane Stove

The Gas One GS-2000 Dual Fuel Double Portable Stove is the perfect solution for larger meals while camping or on the go. This stove offers two adjustable burners with up to 16,000 BTU of cooking power, making it a reliable and fuel efficient option. Whether using propane or butane fuel canisters, this stove is ready to cook whatever you have in mind.
The automatic pressure sensor and cartridge ejection system ensure safe and easy use every time, while the included carrying case provides protection for your stove when not in use.
This unit comes with 2 burners and features good safety features like automatic shut-off if the flame goes out. It also has a high BTU so it can handle big pots and pans. Best of all, it can use both butane and propane gas, so you're always prepared. The Gas One GS-2000 is heavy to carry but it's worth it for the convenience and flexibility it offers.
What To Look For When Picking Out The Best Butane Portable Stove
There are several factors when looking for the best butane professional stoves, including size, weight, ease of use and type of gas connection. Here's everything else in detail:
Size: The size of the product is important if you're always on the go or hiking/camping often. Generally speaking, bigger stoves tend to have more burners and a greater cooking surface area. Conversely, smaller stoves are more compact and lightweight.
Weight: The weight of the stove is also important to consider if you're looking for something to take on your travels with you. Again, bigger stoves tend to be heavier while smaller stoves are generally lighter.
Ease of use: Consider how easy the stove is to operate before making your purchase. Are any knobs or dials confusing? Some stoves are a little difficult to ignite, so keep that in mind when shopping around.
Type of gas connection: If you're going to be using your butane stove in different parts of the world, it's important to make sure that you can easily find a butane canister in whatever country you decide to visit. Look for a stove with the standard isobutane connection, along with a compatible gas cartridge.
Burners: Butane stoves come in all shapes and styles, from small single burner ones that sit on your tabletop, multi-burner camping stoves or even the camping grill that fits over an open fire. Generally speaking, more burners means more heat output and faster cooking times – which is why larger stoves tend to have several burners. Heat distribution depends on how hot the burners get and at what angle they're positioned at too.
Pro Tip: Make sure you look out for if the butane portable stove comes with a carrying case or not. This is especially important if you plan on traveling with your stove.
All in all, there are a few things to consider when purchasing a butane portable stove. By keeping these factors in mind, you're sure to find the best one for your needs. Happy cooking!
Things You Should Avoid When Choosing A Butane Portable Stove
Just like anything else in life, there are a few things you should avoid when shopping for a butane portable stove:
Do not buy a cheap model: You get what you pay for and this definitely applies when it comes to portable butane stoves. If you go for an ultra-cheap option, chances are you'll be disappointed with the end result.
Do not buy a stove that is too large: This may seem like common sense, but make sure you pick the right size stove for your needs. A giant stove might be great for a family reunion, but it's probably not necessary if you're just cooking for one.
Do not choose a stove with complicated controls: If you can't figure out how to use the stove, it's going to do you no good in the kitchen. Make sure all the knobs and dials are easy to understand before making your purchase.
Do not forget about portability: One of the main benefits of a butane portable stove is its small, lightweight design. Make sure the stove you choose is easy to transport so you can take it with you on your travels.
Overall, just make sure you avoid these four mistakes when shopping for a butane portable stove and you'll be good to go!
Butane Vs Electric Stovetops
When it comes to choosing between a butane or electric stovetop, there are a few things to consider:
Butane stoves are portable: Butane stoves are small and lightweight, making them easy to transport. They're also great for camping or cooking in tight spaces.
Electric stovetops are more powerful: Electric stovetops generally have more power than their butane counterparts, meaning they can heat up faster and cook food more quickly.
Butane stoves are less expensive: Butane stoves are typically less expensive than electric stovetops, making them a more affordable option for budget-minded cooks.
Butane stoves require fuel: Butane stoves require butane fuel in order to function, which means you need to buy multiple canisters or a bulk tank in order to keep them running. Electric stovetops don't require any outside fuel sources, making them more convenient for many cooks.
However, it's ultimately up to you which type of stove is best for your cooking needs. If portability and affordability are at the top of your list when purchasing a new stovetop, butane stoves are the way to go!
FAQs
Are butane stoves safe?
A: Butane stoves are generally very safe. However, it's important to be careful when using one around an open flame or while cooking with oil or butter, as these can ignite if you're not paying attention. Make sure to stay in the kitchen when cooking with a butane stove and never leave the room unattended.
Are butane stoves hard to use?
A: Some butane stoves can be difficult to use, especially if they have a lot of dials and buttons. Make sure you consider this when choosing a model – try out the stovetop before buying it if possible.
How do I clean my butane stove?
A: Most detach from their base for easy cleaning. Simply wipe down or wash the individual pieces as needed and blot any excess water with a paper towel. If your stove doesn't detach from its base, simply follow your manufacturer's instructions for care and maintenance.
Are there safety concerns when cooking with a butane stove?
A: As long as you careful and pay attention to what you're doing, butane stoves are very safe. Make sure you don't leave your stove unattended while cooking and always keep a fire extinguisher nearby in case of an accident.
Conclusion
Here are some of the most popular products on the market, as well as important considerations when purchasing a butane stove. Hopefully, after reading this information on what it's like to be out there with nothing more than your camping gear, you'll feel more comfortable making an educated decision when buying one of these for yourself or someone else on your list during the holidays.